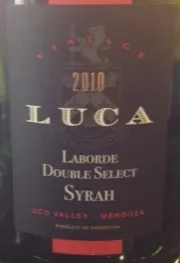 (This is a guest post from Adam L from Southern CA. He sent me a note about this wine and I thought everyone would benefit from reading his notes. I have yet to see this bottle at my Costcos but I am keeping an eye out)
The wine was impressive from opening. Dark fruit aromas immediately greet you almost daring you to let it breathe more. I tasted flavored of dark berries and spicy cherries. The finish was smooth, supple and spicy finish. Tannins were minimal as was the acidity (which were coincidentally the drawbacks in my opinion).
I wondered why the wine was priced the way it was ($18.99) considering the varietal, winery and country of origin, but after tasting, it was well worth what I paid for it. Normally I'm a fan of big California cabs and spicy Spanish Tempranillo's. For those who want a dark fruit and full bodied wine, without firm tannins and acidity, (along with a good amount of fruity and peppery spicy, this one should be considered.