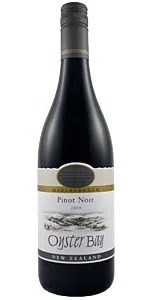 By Redneck Wine Guy
I'll let you in on a little secret – wine is not my career. Rather, I'm a sales guy who travels the globe selling my wares hoping that the next commission check will be enough to buy a case-or-two of the good stuff to collect, store, and share with family and friends.
Today was an incredibly long day. I am in Florida, and in one day traveled over 350 miles. Upon arriving back to my hotel, the last thing I felt like doing was getting myself put together to end up sitting alone at a restaurant bar to eat most likely subpar food while drinking well-level booze and mindlessly surfing on my iPhone. The brilliant idea of grabbing some snack foods and a bottle of wine to sit comfortably in my room was much more appealing. Tonight I was looking for easy drinking – not cheap, just easy.
I was drawn to the Oyster Bay Pinot Noir for several reasons – it was reasonably priced at $12, it had a screw top so I did not have to buy a wine opener/borrow a wine opener from the hotel, and there are some "hella good" (that is a Southern colloquial phrase shorting the expression "Hell of a Good") wines coming out of New Zealand. It was worth a shot.
In color, this wine is light….like, a tad bit darker than a Rosé. The legs are quick – if it was a woman, she would run a lot faster than a courting man could chase her. The nose is very floral, and hints of ripe berries, vanilla, and a tad bit of spice. This wine drinks young, and only opens slightly over time. Upon first taste, this wine needs a bit of time to hang out. This wine is 13.5% alcohol and rather unfortunately I think the taste of alcohol is too pronounced and slightly acidic. The resounding profile I kept going back to time-and-time again was strawberry. Abita Brewing Company out of Abita Springs, Louisiana makes a phenomenal seasonal lager called "Abita Strawberry Harvest Lager." There are a lot of parallels in my opinion to this wine and that beer. The finish is moderate – you will not forget it after first sip, but it will not linger long into the night. Absolutely a good buy at the price point.
Redneck Wine Guy Rating: 88 Points
Winery: Oyster Bay Vineyards
Varietal(s): 100% Pinot Noir
Vintage: 2011
Region: Marlborough, New Zealand