We were excited to learn that this brand has become available in select Costco stores.
You may have noticed this particular wine, in a heavy Burgundy bottle with a large white "E" on the front label, and wondered what it was.
A wine's label often gives this biggest clues as to what the juice inside will taste like. You can usually discern what kind of grapes comprise the wine, where those grapes come from, and in what year those grapes were harvested.
With each of Dave Phinney's "Locations" wines, this information is vague at best. We only really know the location from which grapes come from, and this is in some way a statement by Mr. Phinney that perhaps that's all we really need to know.
Dave Phinney, by the way (if you didn't already know) is the man behind Orin Swift, which features an impressive line-up of bold, extracted, and big California wines. The Prisoner, now its own company and separate from Orin Swift, was his original creation and arguably the most popular of his wines.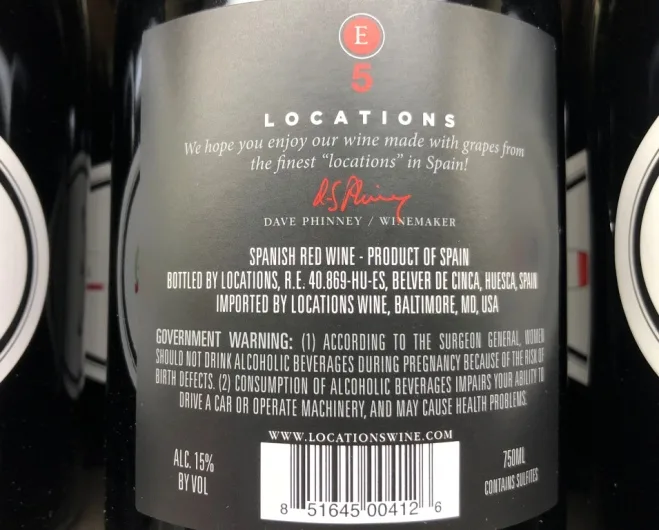 The "E" Locations wine ($13.99) is from grapes grown in Spain (Espana), and before you start wondering if this is a Rioja or Ribera del Duero wine, I must explain that the main point of the Locations label was to create a wine made from grapes grown across regions and appellations in order to get a quality final product that is unrestrained by conventional winemaking rules.
Grapes for this wine were sourced from Priorat, Jumilla, Toro, Rioja, and Ribera del Duero, and are a blend of typical varietals that are grown in these areas.
This blend of Grenache, Tempranillo, Monastrell, and Carignan is seemingly favored by Robert Parker because he gave the wine a 93 point rating, the best in a review he wrote featuring the core Locations wines.
The wine is also my favorite from a recent side-by-side tasting of the "I" (Italy), "F" (France), and "E" wines. I thought that it had the most depth and complexity of the three along with a nice ripe fruit quality that was really satisfying. Opaque in the glass and with a floral nose of dark ripe berries and vanilla, the palate is balanced and smooth.
We hope to see this wine more widely available at Costco and also some of the other Locations labels as well.
CostcoWineBlog.com Rating: 90 Points
Alcohol: 14.5%
Costco Item Number: 821068