Here's the next wine in our Cellar Series, where we revisit favorite Costco wines from the past that we've put away in the cellar to (hopefully) capture the benefit of a few more years of age; or at least to get an idea of how these wines will evolve, just for the curious.
Like our most recent Cellar Series review of the 2008 Besllum Montsant, this is another rather inexpensive wine ($12.69 when I purchased it in 2013) that has developed quite nicely in the four years or so I've had it in my cellar.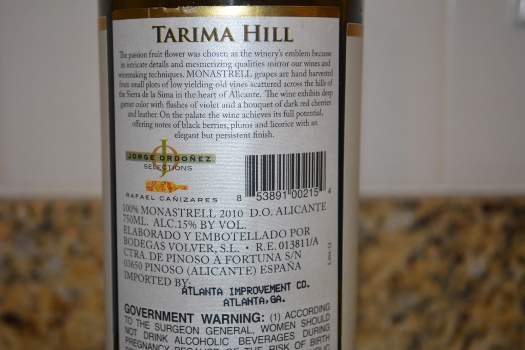 It took an hour and a half in the decanter before it came out of its shell. In fact, I thought the wine had turned right after pouring it, but kept my fingers crossed and glad we hung with it.
The wine isn't showing a lot of age around the rim, still looks fairly young to the eye. Dusty dried fruit on the nose; really delicious in the mouth, juicy, soft tannins, a bit of acidity; flavors of dark fruit, some plum and pepper spice. Great finish.
Surprisingly very similar to when I tasted it in July of 2013; I didn't read the old review until now. It's taken its original character and built upon it, which is what an aged wine will do.
Now granted, low end Monastrell isn't the most ideal aging candidate, but I remember liking this wine a lot and Parker went 93 points on it which was a big deal back then. He also said it should drink well for a decade, and I think he might be right.
I don't rate the Cellar Series, instead we just publish for fun. Hope you enjoy.
[On deck for this series in the months/years to come, in the cellar now, are the 2010 Kirkland Brunello, the 2012 Monsanto Chianti, the 2011 Kirkland Ribera Del Duero, and the 2014 Kirkland Pauillac Bordeaux]