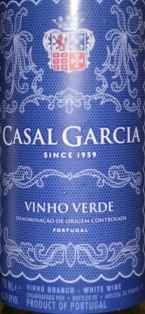 This is an interesting pick for a light, refreshing summer wine that's a bit different than others you are probably drinking. This Portuguese white has a little effervescence to it and at only $6.59 is a good one to stock up on if you enjoy this style. I would definitely recommending trying a bottle though before you buy too many. I can see the effervescence turning some people away. But I found it to be a nice change of pace, and an excellent choice for summer cuisine and hot weather.
The wine is so clear in the glass you can almost not see it. There are a few small bubbles on the surface. It's light in the mouth but packed with more flavor than you might expect given its humble appearance. Flavors are sour apple, apricot, peach and pineapple; pretty acidic and tarty, finishes clean and dry. It just begs you to keep drinking.
I'd recommend buying a bottle to try, and if you like it, I think you'll know what I mean about stocking up for the summer at only $6.59.
CostcoWineBlog.com Rating: 86 Points
Costco item number: 661938