Every once in a while in these reviews, I'll mention that I want to buy a few extra bottles of a wine we enjoyed to lay down in the cellar for a bit to revisit later.
Well, it's starting to come to a period of time where these bottles have had some time to rest, and I'm anxious, and curious to jump back in to see how they've held up, and hopefully developed even further.
Granted, some of the wines I've been holding on to aren't the most ideal for cellaring. I just wanted to try them after a few years of rest, not decades as would be the case with higher quality wines built for the long haul. But I have a few I'm curious about.
The first is the 2008 vintage of the Besllum red from Monstant, which I first reviewed in January of 2013.
At the time, I scored the wine a 91 and said the wine was huge, leaping out of the bottle, with "big aromas, red fruit, juicy, lots of ripe red cherry, red licorice, then a little cedar and spice on the finish." The wine cost $12.99 and I haven't seen another vintage of it hit Costco stores since.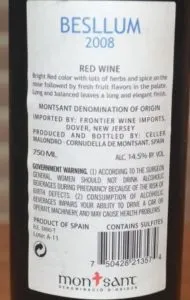 Today, four and a half years later, this wine is very different than what's described above. It's matured to a very nice point, and is at a place I would peg as close to a peak or a plateau in this wine's lifespan.
The big fruit has chilled out into more muted, dried fruit flavor. The juiciness and ripeness has developed into a more complex and interesting drink. The spiciness is still there on the finish, although it almost now has hints of spearmint.
The age was apparent on the pour with the edges of the wine starting to fade. The nose was more muted as well.
This wine, and other slightly aged wines like this at their peak, are not for everyone. I think most wine drinker's would have enjoyed this wine when I first reviewed it more than now.
It depends on your tastes, but this bottle remains a case in point that you can put a little bottle age on a $12.99 Spanish red and have it evolve into something very different than how it began. One of the fascinating aspects of wine I really enjoy.
I'm not going to rate the cellar series wines. This is more of an experiment for the curious.
-Andrew, Editor