As I've said before, I am not the biggest fan of Australian Shiraz, but that's starting to change when I find bottles like Torbreck Shiraz from Australia's Barossa Valley priced under $20. This is a unique wine that I couldn't stop smelling and sipping trying to put it all together, which I'm still not sure I did. That's the sign of a good wine.
It's really all about the mid-palate here that elevates this wine above many other Barossa Shiraz I've tried. An aromatic nose, dark on the pour, dark fruit flavor with a little smoked meat that is light but still punchy; the mid palate almost gives off seaside notes like you're drinking the wine in the middle of a sandbar in the ocean.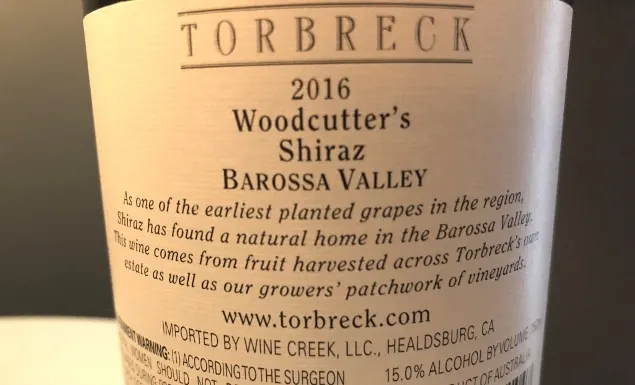 There's some wet stone in there too taking you to a finish that isn't the overly peppery and spicy kind you can get with many Shiraz. Rather, the wine finishes restrained but strong. There's nice acidity and balance overall.
This wine is a steal for $17.99 (It's $25 at Wine.com and $30 at Total Wine). Every vintage of this wine from the past five years has scored in the low 90s among most critics, and with this 2016 (excellent vintage), James Suckling even went a whopping 95 points. That's pretty insane for a wine you can buy under $20.
I'm not going that high, but I'm impressed, and I think you might be too, even if you (like me) don't normally love Australian Shiraz. This is an elegant wine that is food friendly, complex and overall, a wine that made me smile.
CostcoWineBlog.com Rating: 91 points
Costco item number: 693544
Purchased at Costco in: Atlanta, GA (Cumberland)
Alc. 15% (wouldn't have guessed it was that high)
[Be sure to share your thoughts on this wine and other wines you find with the rest of the community in the Costco Wine forums]