I know many of you are looking for good, low priced value buys, so that's why I chose to sample this "Il Ducale" Super Tuscan from Ruffino that was only $12.99 at my Costco.
I too like to find good versatile mid week drinkers to enjoy with dinner that don't break the bank, and this wine falls into that category.
It's simple, and basic, with enough life to keep it interesting, and perfect for that mid-week meal that you want to pair a wine with.
Online this bottle is going for closer to $20, so the Costco price is hard to beat. The wine inside is a blend, and in this case a little different than what I was expecting in terms of varietal composition.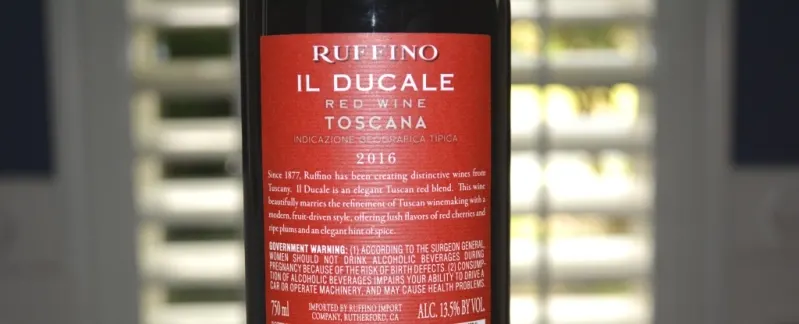 I didn't find the percentage breakdown per varietal, but this wine is comprised of Syrah, Sangiovese and Merlot. It's medium to full in body, with a spicy and earthy nose; flavors of cherry, raspberry, a little Nyquil, black licorice and dark chocolate with a dry finish.
It's a nice wine for only $13, and you could pair with just about anything or drink it on its own which is what we ended up doing. I could see these being a good second bottle too, to enjoy after you drink something else, and of course it's a super safe party pick as I think it will appeal to a wide range of wine drinkers and palates.
CostcoWineBlog.com Rating: 87 points
Costco item number: 143634
Purchased at Costco in: Atlanta, GA
Alc. 13.5%