Rosé season is upon us. If you didn't serve a bottle with your Easter Sunday Supper, perhaps you will on Mother's Day. For me, rosé "season" is year-round, and I always have at least one bottle chilling in my 'fridge.
It's the perfect wine to serve with appetizers and salads, or while you wait for your big red to open.
If you've been in a wine department any time in the last ten or so years, you've probably come across a bottle or two of light-Salmon-colored Provence Rosé.
These wines are usually Grenache-based, and are dry with mineral-driven strawberry notes. Because Provence AOC rules mandate that wines are estate-bottled, and because wines are made from grapes that are grown specifically for rosé production, it's difficult to find an AOC Provence Rosé for under $10.
Enter Costco, the store with the largest wine-buying power in the country.
I was thrilled to see an AOC Provence Rosé for only $8.99, complete with a sleek bottle that lists the breakdown of the grapes. Most Provence Rosés are some combination of Grenache, Cinsault, and Mourvedre.
This wine also includes Tibouren, Rolle (Vermentino), Syrah, and Cabernet Sauvignon. The label lists that the wine is bottled at Domaine De LaCroix.
A quick Google search led me to the winery's website but did not provide much information in terms of what this wine might cost direct from the winery.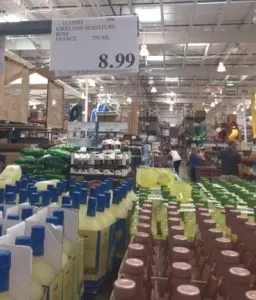 But who cares anyways, right? One needs not to fly to the south of France in order to enjoy this deliciously light Spring wine.
Simply head to your nearest Costco warehouse, and quickly. I heard a rumor that the Cumberland, GA club sold ten cases the first day.
This wine opens with a perfumed nose of bubblegum, strawberries, and later, rose petals. The mineral and ripe fruit-driven palate has a restrained level of acidity that doesn't make your mouth automatically pucker.
While the wine is sweet upfront, it finishes on a bone-dry, but clean, mineral note.
I went back the next day and bought two more. I give this wine 90 points and a Good Value designation.
CostcoWineBlog.com Rating: 90 Points & Good Value
Purchased in Cumming, GA
Alcohol: 13%
Costco Item Number: 1133993