This is the third vintage in a row of Acrobat Pinot Gris that we are reviewing for your reading pleasure. You're welcome. My recent review of Artezin Zinfandel mentioned that we should never assume that one wine vintage will be the same, or even similar as, the next. However, I would like to point out that certain wine producers are very good at creating consistent and quality wines year after year, which vary little in their nuances.
King Estate, which produces Acrobat Pinot Gris, is one of these producers. My notes for this wine are quite similar as those of the previous vintages, and I decided on a score for the 2015 vintage even before checking the past vintage CostcoWineBlog.com ratings. My score is the same.
Pinot Gris is another name for the mutated cousin of Pinot Noir, Pinot Grigio. It has a couple of other names in other countries but I won't bore you with those details. The lightest style of wine that is produced from this grape, apart from the mass-produced, watered-down jug wines of California (I'm looking at you, Vendange), is found in that of the Northern Italian Pinot Grigios. Most of you have probably had an Italian Pinot Grigio, so I will head more north, and then west, to Alsace, where one will find a more full-bodied, sometimes spicy and delectably sweet presentation of this varietal.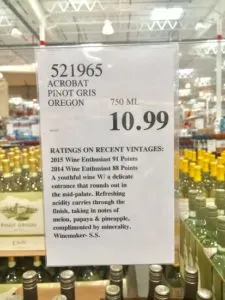 Oregon wine producers, in part to a climate that is similarly cool to those of Alsace & Italy, tend to produce a version of Pinot Gris that is somewhere in between the previously mentioned styles. These wines are often aged on the wine's lees, a by-product of fermentation, which provides a richer style of wine while also imparting additional flavors. The wines have a more buttery or viscous mouthfeel while still maintaining a mineral backbone and fair amount of acidity. Residual sugar is often undetected in most Oregon Pinot Gris.
The 2015 Acrobat Pinot Gris opens with a nose of peaches and wet rocks. The soft and supple mouthfeel is held up by a zippy acidity and mineral core. The finish is clean and easy.
Wine Spectator, the most stringent of raters it seems, gives this wine 87 points, which is higher than the previous two vintages (86 points for the 2013 and 84 points for the 2014). Wine Enthusiast gave it a score of 91 with a "Best Buy" designation. I give this wine a solid 88. You can find this wine for around $11.
Alcohol: 13.5%
Costco Item #: 521965
CostcoWineBlog.com Rating: 88 Points