Pouilly-Fuisse wines are synonymous with good value white Burgundy. We just reviewed the 2014 Domaine Auvigue Solutre, which was fantastic and now we've seen another one arrive in Costco for $16.79 from Domaine Le Clos Noly.
Pouilly-Fuisse is in the Maconnais subregion of Burgundy, which is an area that has been mentioned frequently in wine articles and podcasts I listen to. Here's a great NY Times article on the region from Eric Asimov who is one of my favorite wine writers. His mention of jazz bassist Charles Mingus's affinity for Pouilly-Fuisse in the story is enough to pique my interest further (being a big Mingus fan).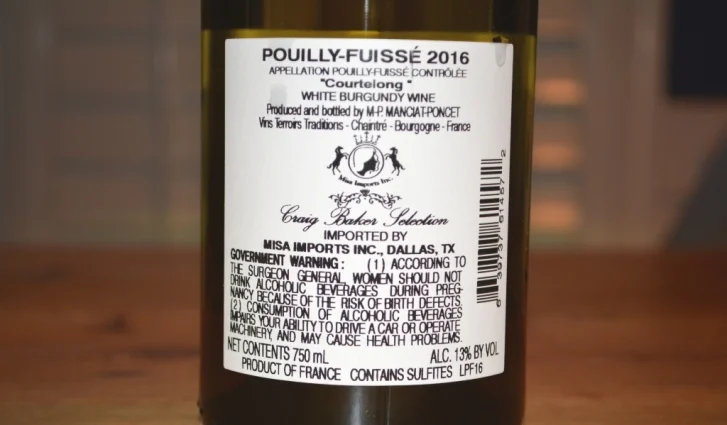 Point being is that Burgundian wines are typically expensive. But Pouilly-Fuisse is still able to be acquired at reasonable prices, and the wines inside are pretty solid. It might be a good time to explore this region, and this is a great bottle to do it with.
This wine is exactly what you expect. It's 100% Chardonnay, well balanced across all the elements, and it makes for a delightful summer wine.
It pours a golden yellow in the glass, slight citrus and mineral on the nose, in the mouth flavors of pear, lemon, cantaloupe, and green apple; finish is nice and graceful, a touch of oak and acidicty.
This wine is a perfect choice for white fish, most summer cuisine, salads, chicken even; pretty versatile. We enjoyed it with Dubliner cheese (also a great Costco buy) before a meal outside on a beautiful sunny day, and it was a perfect match.
Chardonnay fans will love this wine, and those who prefer other whites might be impressed with this expression of Chardonnay, especially for under $20.
Be sure to check out the Costco wine blog forums for comments from other readers about this Pouilly-Fuisse, and other bottles we are reviewing and readers are enjoying.
CostcoWineBlog.com Rating: 89 points
Costco item number: 1242357
Purchased at Costco in: Atlanta, GA
Alc. 13.0%