This wine has been on a rebate for a couple of weeks now at my local Costco clubhouse. The Slow Press Cabernet, a favorite of mine in the under $15 category, made its debut much earlier in the beginning of 2017. We gave that wine a glowing review, so I've been looking forward to tasting the Chardonnay.
Monterey County, California has all of the essential components for growing great wine: warm sun, cool fog, and ancient soils. Chardonnay from this area is somewhat distinctive and known for layered tropical and stone fruits flavors that are balanced in acidity with subtle oak influence.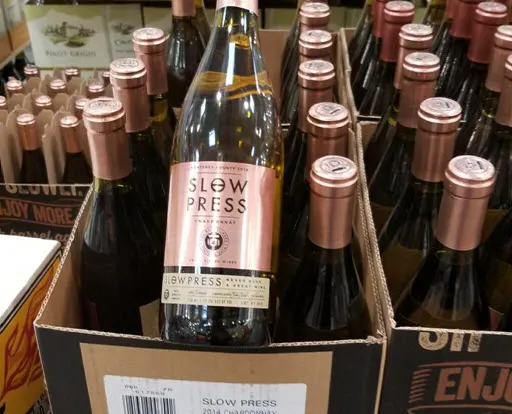 If you like a more creamy and oaky style of Chardonnay, this may be one to try. Sur lie aging along with 12 months in American oak results in flavors of vanilla, toasted coconut, and buttered popcorn. Although not overwhelming, these winemaking influences are definitely present.
When I tasted this wine, I picked out ripe as well as preserved fruit flavors of apricots, canned pears, and golden apples. Buttered popcorn, vanilla, and a hint of smoke rounded out the finish, and I couldn't help but notice a lingering sense of canned fruit cocktail. If I had to pick out one flavor that I got from this wine, that would be it.
I wonder if a newer vintage would provide fresher fruit flavors, as the entire pallet of wine in my local clubhouse was the 2014 vintage. I speculate, but cannot know for certain, that the wine is what I like to call a "vintage push-out." This is when either the winery, supplier, or distributor looks to move a previous vintage out of inventory in order to make room for the next, so they will sell it off for an especially low price.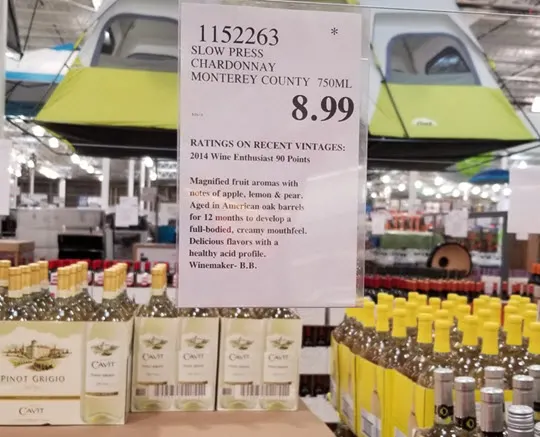 Wine Enthusiast gives this wine 90 Points and calls it "restrained, focused, well-priced, and crowd-pleasing." While the reviewer is referring to a $16 price point, I will definitely say that the current price of $8.99 at Costco is "well-priced." It didn't impress me much, but it also didn't disappoint.
CostcoWineBlog.com Rating: 87 Points
Alcohol: 13.9%
Costco Item Number: 1152263