I always get excited when new Italian wines appear in Costco. I love All Things Italian (what's not to love!?) but the wines hold a special place in my heart because they remind me of my first restaurant job where I began learning about and becoming interested in wine.
Italian wine can get pretty confusing, and most wine professionals will tell you that it is the area where they struggle most in their studies. For starters, there are over 2000 grape varietals grown in Italy. Many wines are a blend of a few different grapes, and even the familiar All-Stars like Chianti include Sangiovese and Some-Grape-You've-Never-Heard-Of.
To add to this, Italians often name their wines after regions, or instead by the varietal, or sometimes after the DOC which isn't either one of these two. Montepulciano, which you've probably heard of, is a grape varietal but also a town. I think you understand what I'm getting at.
It comes as no surprise to me that the newest addition to the "Italian Whites" category at Costco is a Chardonnay. I have mentioned this before, but Costco members must love their Chardonnay because every club I've been to carries more of this varietal than any other. However, "Le Bruniche" from Tuscany stood out to me when the SKU description mentioned an "absence of oak" as well as a 91 point rating from Vinous.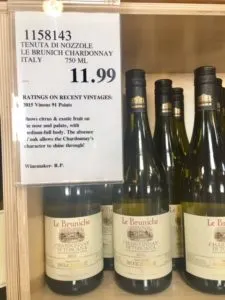 The wine opens with a somewhat intense nose of ripe apple, white grape juice, and peach. The palate is less intense and less fruity with a slight effervescence. The wine is mineral-driven and flinty with a tart and almost sharp acidity.
The finish is dry with a mild salinity. This wine screams for fresh oysters and sashimi. While I was expecting a more fruit-forward and riper style of Chardonnay, considering Tuscany's warmer growing season, I would compare this wine more to a Vouvray or Chablis.
Wine Spectator gives "Le Bruniche" 83 Points and Vivino users give it a more friendly rating of 3.9 out of 5 stars at an average price of $14.89. I picked this wine up for $11.99 and I give it 87 points.
CostcoWineBlog.com rating: 87 Points
ABV: 12.5%
Price: $11.99
Costco Item Number: 1158143