I recently reviewed an unoaked Chardonnay from Tuscany that I was at first excited about but then ultimately unimpressed with. Costco has been getting some interesting Italian red blends this year, mostly from Tuscany (Super Tuscans), and mostly good value wines. When I came across this 2014 blend from Umbria for $7.49, I knew I had to try one, and I didn't expect much from it.
This blend is an IGP from Umbria. What does this mean? Well Umbria is just about smack dab in the middle of the calf of the Italian boot, quite close to Tuscany actually. There are only two DOCG wines that come from this area, and chances are you haven't ever had either of them. Torgiano Rosso Riserva is a blend (shocker) of at least 50% Sangiovese, 15% Canaiolo, 10% Trebbiano, and 15% of select other red grapes. Sound familiar? This is a similar blend to a Tuscan Chianti, which makes sense because the regions are right next to each other.
Now, the other Umbrian DOCG, Montefalco Sagrantino, is a little more interesting. It requires the wine to be made from 100% Sagrantino, a special red grape that is indigenous to Umbria. These wines are bold and high in tannins, with a deep & dark purple color and palate of black fruits and cocoa. If you ever come across one, get it.
Enough about Umbrian DOCG wines though. The wine I'm reviewing today is an Umbrian Rosso IGP. IGP stands for Indicazione Geografica Tipica and basically means "the grapes in this wine are grape varieties approved for the region of Umbria." I suppose Merlot, Cabernet Sauvignon, and Sangiovese are all approved varieties for Umbria because this wine is an equal blend of the three.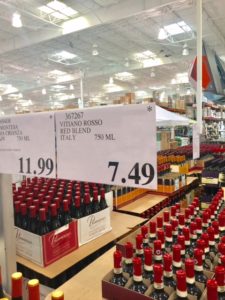 Since the IGP designation was, for the most part, created to classify Super Tuscans, you can essentially call Vitiano Rosso a Super Umbrian of sorts. If you want to.
The wine opens with a nose of dried cherries, vanilla, and parsley. Subtle and dusty tannins round out the tart, almost sweet mid-palate while the finish is simple and clean. The back of the bottle says this wine is "an ideal match for red meat and tomato-sauced dishes". I would also pair this with a cheese board or BBQ pulled pork. The screw cap, deceivingly hidden under a foil, says "bring me to a picnic or on the boat" while the $7.49 price tag says "why not bring a few bottles?"
I really liked this wine. Like, really a lot. Enough so that I went back a few days later and purchased six more bottles. It will be my go-to Italian red table wine for the rest of this year. My significant other, who I am gradually turning into a wine snob, fully agreed with me. The price is super attractive, and the wine, while relatively simple with a clean finish, could fool me into thinking it costs twice as much. I will designate this wine a Great Value and give it an honest score of 89 points.
Purchased in Cumming, GA
Costcowineblog.com Score: 89 Points
ABV: 13%
Costco Item Number: 367267