This wine has been a consistent good value in the past few vintages. It always seems to be popular among members as well, many of whom will confidently tell you it tastes like a bottle that costs twice the price.
For this reason, I have a few each of the 2013 and 2014 releases in my collection for those nights that I'm in the mood for a jammy, fruit-forward wine.
You'd be hard-pressed to find a California Zinfandel that's under 14% alcohol by volume these days. The warm areas in which Zinfandel likes to grow lend berries that are full of sugar, and in order to achieve an appropriate level of phenolic ripeness, winemakers must leave the grapes on the vine long enough to allow this to happen.
This results in wine that has higher alcohol and residual sugar levels. California Zinfandel is popular in the United States for the same reason that Meiomi, Menage-a-Trois, and Apothic wines are: residual sugar. We Americans love our sugar.
The 2015 Kirkland Signature offering boasts a staggering 15.5% ABV, and while there is definitely some heat on the nose and palate, moderate acidity keeps everything in check.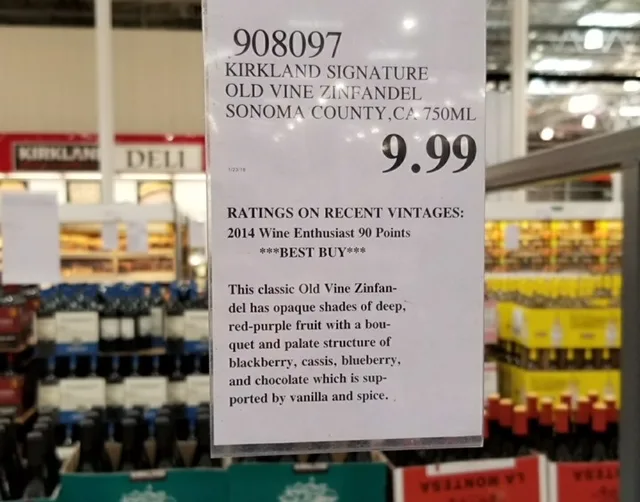 The wine pours somewhere between ruby and garnet red. The nose of ripe red fruits and black plums is moderately intense along with hints of sweet baking spice, particularly cloves. Full and spicy on the palate, ripe fruit persists with blueberries and a very subtle petrol aftertaste (it works here though). The finish is long.
I spent my weekend completing the first level of the Court of Master Sommeliers, and I learned a few things about wine and food pairing that I feel useful to mention here. While there are a few basic principals to wine pairing, there really is no one-size-fits-all rule.
First of all, sugar needs to be matched with sugar. Because this wine has a bit of residual sugar, it would pair well with sauces that are also a little bit sweet. I would avoid pairing this higher-alcohol juice with anything too spicy as it will only accentuate the heat in both.
I think that a rack of BBQ ribs or pulled pork would pair nicely. Grilled pork pairs well with fruit sauces, and so drinking a fruity wine like Zinfandel is completely appropriate for that occasion.
Finally, for the upcoming Valentine's Day holiday, this moderately acidic wine will pair well with a high-quality milk chocolate.
Or you could just pair it with a wine glass and call it a day. This is yet another solid Kirkland Signature wine.
CostcoWineBlog.com Rating: 90 Points
Alcohol: 15.5%
Costco Item Number: 908097
Purchased in: Buford, GA