The Joel Gott Cabernet Sauvignon is a Costco staple. Every club that I've ever been to carries it. Some of them stock it in the wooden bins on what I like to call the "tables." Other clubs prominently display pallets of it on their end caps. The price tends to always remain the same, hovering somewhere between $13-$15 per bottle.
I must say that I used to like this wine more. The 2013 vintage was really good. I still have a bottle or two left that I open from time to time, and it has held well. Because each cuvee is blended from juice that comes from all over California, there are bound to be variations between vintages.
The current release (2015) lists the appellation as "California," followed by eight different areas such as Napa, Sonoma, Monterey, and Lodi. This wine is, in a way, a tour-of-California Cabernet. The tech sheet explains that it "reflects what each appellation gives to the wine."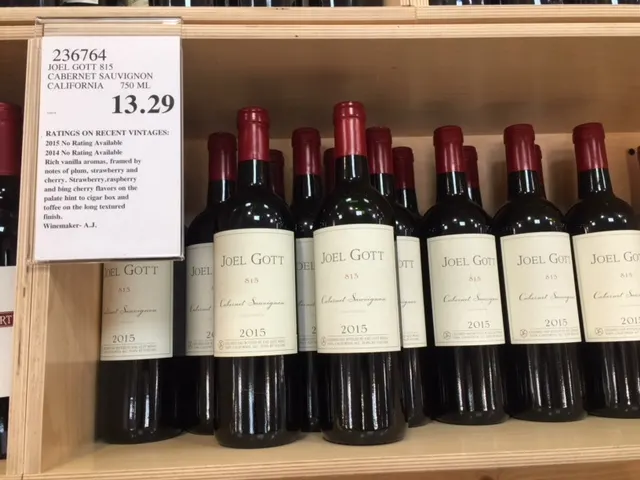 Whatever the reason given for using grapes from so many different areas, the juice is good and ultimately I don't judge the wine as being an overpriced and mass-produced California blend. It's 100% Cabernet and still manages to be smooth and subtle, striking the right balance between tannic structure and dark berry flavors.
This is a great wine to have on its own or with an appropriate Cabernet pairing (I'm looking at you, Filet Mignon). Costco Filet Mignons are killer, by the way, in both flavor and value.
Aged in 25% new American Oak, which lends bolder flavors than French oak does, hints of baking spices such as anise and clove mingle with subtle toasted coconut aromas. A core of dark berry and cassis precedes a lingering finish.
The alcohol content is right where it should be at a friendly 13.9%. Too many California Cabernets these days are overly "hot," with ABVs at 15% and up. I personally don't like to see stars after drinking only one glass of wine.
While I'm not hoarding bottles of the latest vintage like I was a couple of years ago, I would buy this wine again and be confident that I'm getting my money's worth.
Costco sells this brand at a price that's well below most grocery stores and also manages to edge out competing wine retailers in my area. I've yet to see this wine on a rebate, and I doubt that it will ever be deleted, but who knows?
My advice is that if you're looking for a better-than-a-weekday wine or something nice to go with your Friday night dinner, put a bottle of this in your cart next time you're at the club.
CostcoWineBlog.com Rating: 90 Points
Costco Item Number: 236764
Alc. 13.9%
Share your opinion and see what others have to say about this and other wines we review in the Costco Wine Blog Forums.