Ok, I know what you're thinking. Another Pinot Noir review? Can't she branch out and try something different? Sure, I could, but hear me out.
This Pinot Noir is from New Zealand, received 90 Points from Wine Spectator, and is only $9.99 per bottle at Costco. Also, it has this cool "Cat in the Hat" screwcap, so described to me by the young lady who checked me out.
New Zealand is already on most people's wine radar as being The Place to buy Sauvignon Blanc from these days, and if you peruse any given Pinot Noir section of a wine department, you're likely to find little (if any) from New Zealand.
But why?
I believe these wines aren't as popular because of the unusually light structure that they tend to exhibit. To add to this, the juice is quite dry and earthy, perhaps too much so for the average American palate. I will keep this is mind when tasting this wine for you, the average American.
Let's touch briefly on the 90 Points from Wine Spectator.
I only want to remind you that wines are not rated on deliciousness or in any sort of comparative format to other wines of the same varietal from different areas. A 90 Point New Zealand Pinot Noir is probably a good example of a wine that tastes like a New Zealand Pinot Noir.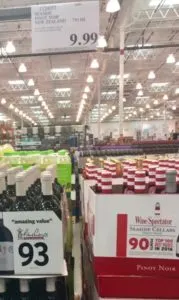 On top of that, the wine is probably fairly well-balanced, not overly simple or one-dimensional, and devoid of any faults. You should really only care about a highly-rated New Zealand Pinot Noir if you know that you like New Zealand Pinot Noir.
I like the weight, shape, and deep punt of this bottle. I love screwcaps on red wines because I know they won't be corked, although sometimes the wines need extra time to breathe since very little air is introduced with these types of closures.
The juice is light and translucent with a pleasantly pungent nose of ripe strawberries, orange rind, and vanilla. The wine is flavorful and tart, with a savory black pepper quality. The structure is there even though the tannins are very mild. There is a very astringent, pink-grapefruit thing happening as well.
Although it's not the style of Pinot Noir that I personally prefer, I can appreciate that this is a good quality wine. If you tend towards the more Burgundian-style Oregon Pinots, which can often be quite pricey, then this is the wine for you. I give this wine 89 Points.
CostcoWineBlog.com Rating: 89 Points
Purchased in: Cumming, GA
ABV: 12.5%
Costco Item Number: 1124053