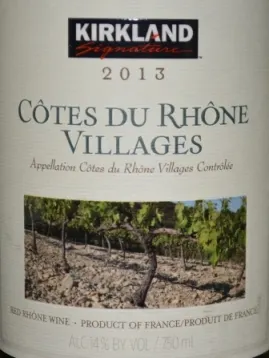 Kirkland Signature wines historically offer a nice bang for the buck (like most Kirkland items at Costco), and the KS Cotes du Rhone Villages always seems to lead the way in terms of unbelievable value since it is priced at only $6.99. You just can't find wines from this region priced that low so I highly recommend seeking this one out. And I've already heard from a few readers, and our contributor Josh, who have found and enjoyed this wine.
Many of the same characteristics I noted in the 2011 vintage apply to the 2013, and I'll probably score it similarly in the 88-89 range. This is an impressive little package, a lot of flavor packed into a wine with a lighter body than I was expecting. It's a little unassuming at first, but in a good way once you get in.
Nose is peppery, earthy. The blend is standard Rhone: Grenache, Syrah and Mourvedre. Flavors of dark fruit, blueberry, blackberry, jammy; a fair amount of depth for a $7 wine. Leather towards the end, into the finish that's dusty, dry and lasting.
Overall, one of the best buys I've found at $7. I can't think of any other wines priced this low that I felt had this much going on. Worth a try.
CostcoWineBlog.com Rating: 88 Points
Costco item number: 887774
Purchased at Costco in: Atlanta, GA (Cumberland)