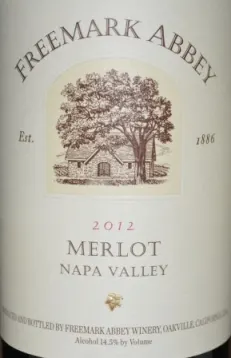 I've been slacking a bit on reviewing some Merlots and thought this bottle from Freemark Abbey would be a nice way to get going again. I love their Cabernet Sauvignons, and really want to try some of the straight Cab Francs they're putting out. But I found the Merlot at Costco. Price was $28.99 which is pretty good since I've seen this one closer to $35 before ($35 is full retail. Wine.com has it for $27).
It might seem like a lot to throw down for a Merlot, especially considering their Cabs are just a bit more, but I really enjoyed this one. 2012 is obviously the year you want from Napa. This is a combination of mountain fruit and fruit from the Napa floor. It's 86% Merlot along with some other Bordeaux varietals so that helps balance the wine.
It's a juicy one, fruit forward; definitely a crowd pleaser for red wine fans, who might not peg this for a Merlot; reminds me of a right bank Bordeaux to a degree. Oak element is mild so the fruit really comes through. Dark fruit, blueberry, cherry, blackberry flavors. Finishes smooth and clean, a touch dry and sticky.
Overall, an enjoyable wine. I wish we could get in at a slightly lower price point, but that aside, I'd recommend for most red wine fans, even those non-Merlot drinkers.
CostcoWineBlog.com Rating: 90 Points
Costco item number: 62829
Purchased at Costco in: Atlanta, GA (Kennesaw)