Readers were asking about this wine for some time before it finally appeared back in the clubs. This is another solid, good-value Kirkland Signature label wine. $8.49 for a Chianti Classico Riserva is hard to find elsewhere.
There are eight sub-regions within Chianti, and the Classico region is considered by many to be the best area for Chianti production. Wines designated "Riservas" must be aged for a minimum of 24 months at the winery before release. This wine was aged for 24 months in oak barrels and an additional three months in the bottle, according to the label.
The label also denotes that this wine was created "exclusively together with the winemaking team of Villa Cafaggio Estate." I looked up the 2013 Villa Cafaggio Chianti Classico Riserva on Vivino, and it came in at a user rating of 3.7 points with an average price of $30.49. Interesting.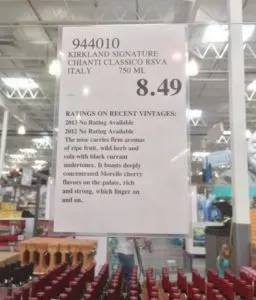 The nose of this wine brings Morello cherry, Earth, & leather. The palate is rich in wood tannin and sour cherries. This is a medium-bodied style of Chianti that would likely age quite well into the next 5-7 years. Wines at this price point often aren't that age-able. The lingering finish confirms my suspicion that this is a decent quality Italian wine for less than $9.
Generally speaking, I feel that the KS wines are great values. They aren't going to blow your socks off, but you also aren't going to be disappointed. This wine is in the upper range of value, and if you regularly drink Chianti then I would definitely recommend giving this a try so that you can then come back for a case if you like it. I give it an 88.
Purchased in Buford, GA
ABV: 13.5 %
CostcoWineBlog.com rating: 88 Points
Costco Item #: 944010