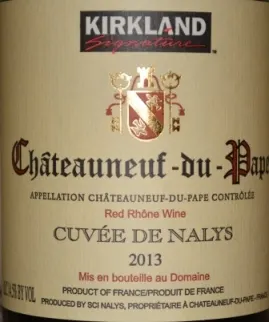 Take a look at this little treat that arrived in Costco stores a bit earlier than normal this year. I've already had several readers write to me about it, and the reviews seem pretty positive. This has historically been a great buy at $19.99, far below most other wines from this premier region. Let's take a look at my ratings history for the Kirkland Chateauneufs going back to the 2008 vintage:
2012 91 points
2011 92 points
2010 91 points
2009 91 points
2008 90 points
This newly released 2013 is spectacular, perhaps the best of the bunch. I'd love to try the 2010 and 2011 again to compare (note to start cellaring these). This bottle is produced by Domaine de Nalys whose wines are typically priced much higher than this one, so it truly is bargain central.
Perfume, violets, some all-spice aromas on the nose; the wine is hefty, big body and good depth; beautiful layered red and black fruit, multi dimensional, begins with more red fruit flavor and then progresses into more dark fruit. Loads of blackberry. A little wood towards the end; dry sticky finish. This wine really permeates and lingers. What an awesome wine for $20.
If you're not into Chateauneufs, you might want to give this one a look. It's made in the Southern part of France's Rhone Valley and they can use 13 different grape varietals. There are six listed on the bottle here, and these are likely the dominant ones (Grenache, Syrah, Cinsault, Vaccarese, Counoise, Mourvedre), with much smaller parts of many of the others.
I just saved this draft and returned after enjoying a glass over the course of an hour while I pondered the rating. This is a delicious wine. I'm stuck in the 92-93 range, and I think I'm going on the higher end of it. Buy these while you can. Going on the Top Picks list of course.
CostcoWineBlog.com Rating: 93 points
Costco item number: 777662
Purchased at Costco in: Atlanta, GA