I love Costco rebates. I've said this before, and I'll say it again. You will not find a particular wine for a better price than a Costco wine that has an instant rebate.
This intriguing new addition to the Costco wine department arrived earlier this week in select clubs around the metro Atlanta area. My confidant sent me a photo of it along with the rebate tag, knowing it was right up my alley, and I promptly responded "Get it please."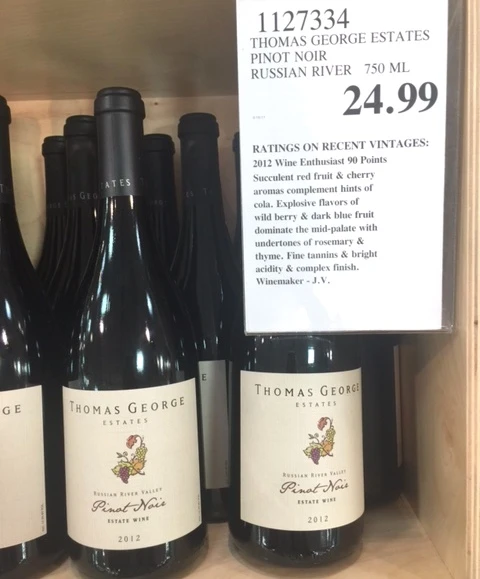 I love Russian River Valley Pinots because they tend to have a core of sweet fruit and spice complemented by a subtle tannic backbone from decent oak aging. This wine is no exception, seeing 11 months in 94% French Oak barrels, with the remaining juice held in concrete tanks.
This wine opens with a restrained nose of ripe cherry, cola, and black licorice. The palate is full, tart, and spicy. Flavors of red cherry, raspberry, and orange rind linger on the somewhat bitter and pithy finish. Well-done.
Wine Spectator gives this wine 88 points while Wine Enthusiast gives it a score of 90. Both reviewers mention red berries and red cherries, which I feel is prevalent in this wine. The average price listed by each reviewer is $43 per bottle.
Thomas George Estates pinot is currently $24.99 at select Costco stores. The $9 rebate brings the price back to $33.99 on November 11, according to the item tag. However, I've seen wines remain at the sale prices much later than the date that the rebate expires, but I suspect that this wine will sell out before we have a chance to find out.
CostcoWineBlog.com Rating: 88 Points
Costco Item Number: 1127334
Alcohol: 14.3%
Purchased in Buford, GA