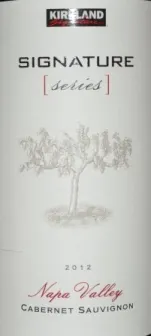 Of all the Kirkland Signature wines I've had in the past year or so, this is among the ones I looked most forward to digging into (some of the KS Chateauneufs too, and the Signature Series Malbec was outstanding). 2012 was such a banner growing year for Napa and I figured the Kirkland Napa Cab for $19.99 would drink like something that cost much more. And it does.
I recently had the 2012 Chateau Montelana Cabernet at a dinner and thought it was outstanding. Since that wine is in such recent memory (and granted a step up in price) I am holding this wine against a pretty strong benchmark.
That said, this vintage of the KS Napa Cabernet is perhaps the best of the vintages of this wine that I've reviewed. It is a solid, well made wine that pours dark and inky with a huge floral nose that leaps out of the glass. It is full bodied with silky tannins; packs a healthy dose of dark fruit with dark chocolate notes and a long sticky finish, slightly dry and lasting. Classic Napa traits all over it.
For $20, I think this is a very good buy. The 2012 Montelana, priced slightly upmarket is a nice step up if you see a good price on it too (around $50 but I haven't seen it at Costco). And I think this Kirkland wine isn't too far behind.
CostcoWineBlog.com Rating: 90 Points
Costco item number: 444410
Purchased at Costco in: Atlanta, GA