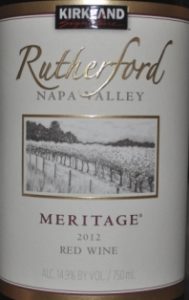 The Kirkland Rutherford Meritage is consistently a good value as far as Napa red blends go. I think I've given them between 88-90 points almost every year, including 2011, which was a tough growing year. This year's Meritage is a bit different, with a more dominant Merlot percentage in the blend, but I thoroughly enjoyed it for only $13.99. It's tough to get much more from a Napa red at that price.
So this year's blend is 58% Merlot, 26% Cabernet Sauvignon, 8% Petit Verdot, 6% Cabernet Franc, and 2% Malbec. The Merlot domination brings a nice character to the wine with a little more ripe fruit and softness. The wine opened a little closed for us, and needed a lot of swirling to bring the nose out. But it emerged, still a little restrained, with ripe fruit and spice. Medium to full in body, I'm getting a lot of red licorice, tobacco and leather surrounding red fruit. The wine has a little sweetness toward the close as the acidity takes hold. In the finish, it's chalky and sticky, like many wines from this region tend to be.
All in all a solid buy for only $14 and a safe buy for almost any red wine fan.
CostcoWineBlog.com Rating: 88 Points
Costco item number: 999309
Purchased at Costco in: Atlanta, GA