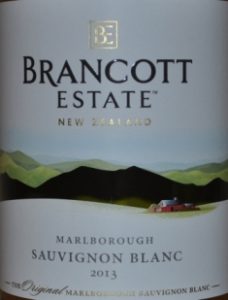 Time flies. It's hard to believe we're drinking 2013 wines already. The Brancott Sauvignon Blanc is consistently a good buy year after year for fans of New Zealand style whites and this year's wine is right on par with past vintages. This 2013 bottle was priced at $8.99 at my Costco.
There might be a little more stoniness on this wine, a little slate, rockiness. It has the typical grassy nose that's packed with tropical fruit and this carries through to the palate where flavors of pineapple and grapefruit really dominated for me. This is a good summer wine pick that goes down easy and cools on a hot day.
I find a lot of New Zealand wines to be a little fruity and acidic for a lot of the cuisine I would normally pair with a white. But if you're looking for a stand alone drink for a hot day, it doesn't get much better than this for the money. And I've seen this bottle priced a few dollars more at other wine shops so the $9 Costco price is pretty good.
CostcoWineBlog.com Rating: 87 Points
Costco item number: 335929
Purchased at Costco in: Atlanta, GA