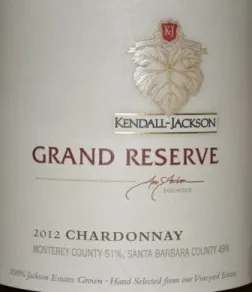 I've always enjoyed the Grand Reserve Chardonnays from Kendall Jackson because they taste great and the Costco price is always remarkable. For 2012, which was a banner growing year in California, the Grand Reserve returns to Costco shelves, and for the bargain price of $12.99. Do a quick search online and see how many online outlets sell this wine even close to that price. The standard price for this bottle is $19.99, and it drinks like you would expect from a $20 Chardonnay from a great year.
This is a bright, fruity Chardonnay with just a touch of oak. They hold the oak back to really let the fruit shine through, and I think they strike a perfect balance, at least for my tastes. The grapes are split just about evenly between vineyards in Monterey County and Santa Barbara County. Flavors are lemon/lime, with citrus, a touch of sour apple into a finish with that hint of oak alongside a little butterscotch and tart.
Very nice package, super food friendly (we sampled with a fruit and cheese plate, and found the cheese to pair the best), and the Costco price is unmatched. This is one to have on hand for all occasions, whether you need a simple, crowd pleasing white, or you have a dinner guest looking for a nice Chardonnay to pair with their meal. You can't go wrong.
CostcoWineBlog.com Rating: 92 Points (bonus point for value)
Costco item number: 48334