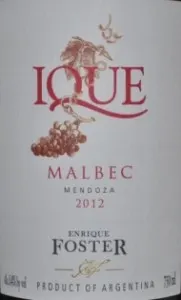 This is a young one (it's hard to believe we're drinking 2012s already), and it feels a little disjointed upon opening. I'm willing to bet it will even out with a little more time in the bottle (and likely will tonight with some more air). But even as it stands now, it's not a bad buy at $8.99 at Costco.
Nose of perfume and flowers, gets a little spicy the more you put your nose in. The wine is medium in body, lighter than I was expecting, and the lightness feels good in the mouth amid the firm tannic structure. I think it would improve in the palate with a little more age and air time. Flavors of red berry, cherry and tobacco. The finish is a little short and discreet.
For the under $9 price, this falls in line with most other low priced Mendoza Malbecs – they are hard to beat for the money. But going $5 up market could yield a wine with a lot more character.
CostcoWineBlog.com Rating: 87 Points
Costco item number: 485363