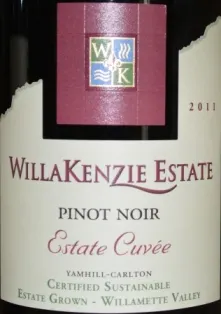 I enjoyed this wine, but was hoping for just a bit more depth for an Oregon Pinot that Costco was selling for $19.69, and one that is priced closer to $30 elsewhere.
Everything here is really enjoyable and I love my Oregon Pinots (almost as much as my Oregon Ducks, even though that loss last week was painful). I was just hoping for a bit more out of this wine. I was really looking for a solid $20 go-to-anytime Oregon Pinot that had more depth and was just a little more interesting through the long haul (I guess that is a lot to ask for in the $20 range, but I've been faring pretty good this year as far as Costco wine bargains).
Vibrant nose, floral with pepper; in the mouth, the wine is light, loaded with red fruit, super food friendly, which is how I would recommend going about this one; pair it with a nice meal. Finish is very nice, sticky and lasting. This is a rather simple, easy drinking Pinot.
All in all, a pretty good package, and an ok buy for Oregon Pinot fans. But we'll have to keep an eye out for more wines along these lines to see how they might stack up.
CostcoWineBlog.com Rating: 88 Points
Costco item number: 717914