This is a super interesting Costco wine find that was absolutely delicious. This is one of those wines you don't go in looking for, you come up not sure what you have, and in the end, you're pleasantly surprised you rolled the dice.
First off, it's a 2011 vintage and it's drinking really nice right now. It's soft and elegant in the mouth, just in a perfect place.
Next, it's a blend you don't see everyday – 50% Primitivo and 50% Negroamaro. Primitivo is derived from the same Croatian grape (Crljenak) as Zinfandel. Negroamaro is a black grape that's popular in Italy's Puglia region. So we have quite the interesting combo here.
We also have a super heavy bottle, wrapped in an elaborate white label that proudly promotes the wine's 91 point score from Wine Spectator. Price was $19. So consider me your guinea pig on this wine. I was intrigued to say the least.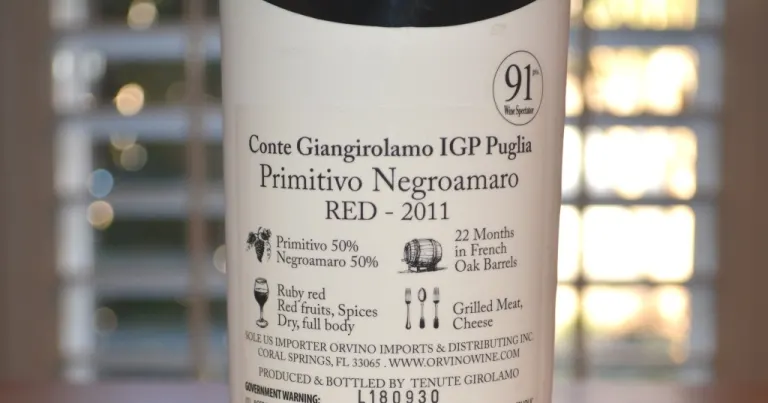 In the glass the wine is a dark blood red with hints of a few years of age around the edges that are lightening up. Juicy aromas on the nose in the mouth; loads of red fruit, raspberry, strawberry, cranberry even that is a lot fresher than you might expect from a wine that is eight years old.
The finish is dry as can be, really nice; a little pepper, some chocolate towards the end; lingering taste of a chocolate covered cherry.
Like I said before, this isn't the type of wine you run into every day. It's a fun one for a change that's super food friendly, and just really enjoyable every single drink. I gave it a decant and really liked how it evolved over the course of an hour. Glad we went out on a limb and tried this wine.
CostcoWineBlog.com Rating: 90 points
Costco item number: 1262107
Purchased at Costco in: Atlanta, GA
Alc. 14.5%
We want to hear from you. We value your opinion and want to continue to grow our awesome community here so please leave your thoughts in the comments below; or jump over to the Forums and share your experience with this wine or any others you want to post about.
And remember, we wrote a book all about Italian wine including Primitivo and Negroamaro, and a bunch of other popular Italian wine varietals and regions. Check it out if this sounds up your alley. We intended for it to be a super fast, highly educational read.