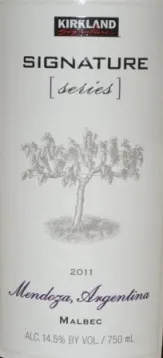 This is one of those wines that just highlights why shopping for wine at Costco is such a pleasure. I've had several readers comment on the standard (non signature series) Kirkland Malbec which is about half the price of this one ($8.99 for the regular Kirkland Malbec vs $18.79 for Kirkland Signature Series that I review here) and everyone felt that was a winner. So I wanted to move a little further upstream and see what the Signature Series wine brought to the table. And I thought this was a killer wine for the money; an easy addition to our Top Picks list of great wines at the warehouse right now.
This wine pours dark inky purple, almost black; nose is interesting, a touch of vanilla mixed with herbs, maybe even a little pine; I couldn't stop sniffing this one. The wine is full bodied and penetrating, great depth, loads of dark fruit, some spicy cherry; finishes dry and sticky with a hint of spice.
Wow, it just keeps getting better the more I dig into it. This is a superb wine at this price. I can't recommend it enough. I think fans of all types of red wines will find something they like here. I plan to buy a couple more to sit on as I think it may develop even further in a year or two.
CostcoWineBlog.com Rating: 92 Points
Costco item number: 825988
Purchased at Costco in: Atlanta, GA