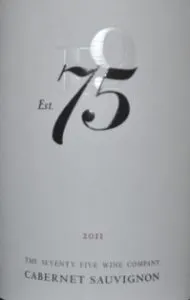 Here's a Costco staple that I haven't reviewed in some time. This bottle, from winemaster Tuck Beckstoffer who rarely disappoints, is only $19.79, and it's a solid California Cabernet in the always popular under $20 offerings.
Nose was tight at first, a little floral and pepper to note. On the palate the fruit is just fantastic; ripe and pure blueberry, blackberry, cedar, a touch of green pepper. I wanted to learn a bit more about the fruit and found the following line from the 75 Wine Company website: "…a blend from our Lake County vineyards, Mendocino fruit and Valley floor fruit from our beloved Napa Valley." Beckstoffer seems to own grapes everywhere and can really pick and choose how to make his wines to deliver great quality for the dollar.
Finish brings a touch of pepper, a little dry and very smooth.
This is a good buy and a solid California wine for the money. It also seems to be pretty widely available at a lot of Costco stores so I hope you can find it.
CostcoWineBlog.com Rating: 90 Points
Costco item number: 241276