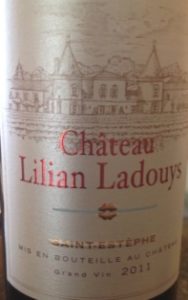 I never really considered buying wine at Costco to go along with the countless other items I'd eventually find in my shopping cart as I checked out. As I began to drink more wine, I ventured into the wine section and found myself ogling the different wines they had in their distinctive wood boxes and stacked by the palate aisle by aisle.
In the past I was pretty much a Napa Cab guy, but the Spanish Tempranillo I bought opened me up to a wonderful world of new wines.
Since I live in Southern California, there are at least 8-10 Costco's within an hour of where I work and live. It's amazing how you can walk into one Costco and find a completely different selection of wines than at a Costco 15 minutes away. That being said, I do enjoy visiting the various Costco's to see what they happen to have on display.
I noticed this wine about a month ago. At $19.99, it checked the box of what I was willing to spend on a wine for this week, not to mention I was specifically looking for French wine. As I normally do, I opened the bottle and poured a splash to taste as I decanted the rest. The color was a very deep purple and the nose reminded me of a romantic, floral, light fruited wine that I was going to enjoy drinking.
At first taste, the wine was a little sweeter that I thought it would be with moderate acidity and tannins. Mid palate you were greeted with flavors of plum and leather with a semi long finish. After decanting it for about an hour, the sweetness subsided and plum flavors really took over. I thought the wine would be a little out of balance, but after more time in the decanter it came together much better. The wine doesn't quite have the flavor of ripe fruit if that's something you're considering.
All in all, it's a great wine for the price if you enjoy (or want to try) French wine that's a little sweet, dark fruited with predominantly plum flavors and isn't overly acidic or tannic (but not soft). Rarely does a winery's description describe a wine so well, so if you happen to find this one in your local Costco, feel free to give it a ride.
Overall 89 points for flavor and value.
— Adam L