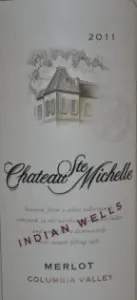 It's been a while since I reviewed one of the Chateau Ste. Michelle Indian Wells Merlots, and I'm happy to report that the current vintage is quite nice for the Costco price of $13.99 (it's been slowly creeping up).
You'll want to give this wine a little air. It opens up a little closed but after some time in the glass, its true character began to emerge. The nose is subtle and floral; in the mouth the wine feels medium in body, tannins are gentle and the flavor is spot on to what I remember from this wine; jammy dark fruit, a hint of vanilla and chocolate, ripe fruit, a little vegetal. This wine is ready to drink now. Finish is very pleasant, longer than expected with a touch of spice.
This bottle is a good buy at Costco. Also keep an eye out for the Columbia Crest H3 Merlot if you like your Columbia Valley Merlots. It is similar in price and value, and seems to widely distributed around the country.
CostcoWineBlog.com Rating: 88 Points
Purchased at Costco in: Atlanta, GA
Costco item number: 160933