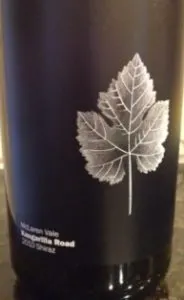 I've seen this wine in the aisles at Costco for a while now, however the Australian label, screw top bottle, and price tag of just under $15 did a good job keeping me away. Lately my taste has been for spicy, fruity wine, so what better to drink than a Shiraz, right? After deciding that the screw top would not deter me, I decided to go for it.
It's amazing how one's preconceptions can really hold a person back from something. The wine was dark purple, and had a bright, spicy nose that reminded me why I chose a Shiraz to drink in the first place. As I usually do, I tasted a small amount and decanted the rest for about half an hour.
My taste buds were immediately greeted with warm spices, cherry and plum flavors. It somewhat skipped the middle part, and finish was as if someone had pushed a button to deliver a quick tang that lingered ever so slightly.
After some time opening up, you could begin to isolate its characteristics. It's not the most complex wine I've ever had, but imagine a medium bodied wine with a spicy, cherry flavor followed by a quick rush of acidity with a plum flavor. All those flavors lingered in the tasty, but quick finish.
Drinking this Shiraz made me reflect on how people new to drinking wine need to ask themselves what characteristics they like in wine as opposed to just drinking varietals they like. Although a Shiraz, the spice resembled a French Chateauneauf de Pape and fruit a Spanish Monastrell. That being said, I highly recommend reading digging deeper into a wine's characteristics and you may be surprised by a wine you didn't know you liked. Have someone with wine experience taste this wine blind and see what they have to say.
89 Points
— Adam L