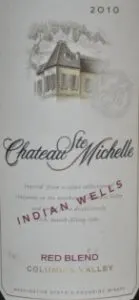 A solid red blend from a consistent producer. This is a nice big rich wine that's fruity, meaty and accessible. Great food wine and a good buy all around for $13.99 at Costco.
The blend consists of 60% Merlot, 28% Syrah, 6% Cabernet Sauvignon, 3% Grenache, 2% Malbec, 0.5% Cinsault, 0.5% Mourvedre. I'm a fan of the Indian Wells Merlot, so having the Merlot dominate is fine with me. I actually completed a recent Napa trip where I saw more and more Merlot based red blends from many of the big and small guys. The Merlot really helps give it the richness for the other grapes to round out around.
Nose smells young, fresh, floral. Big red fruit flavor, cherry, strawberry, raspberry; forest floor aromas and turns a little spicy toward the finish. Finish is dry and lasting. This wine tasted almost exactly like I thought (and hoped) it would. A good buy at this price.
CostcoWineBlog.com Rating: 90 Points
Costco item number: 708779