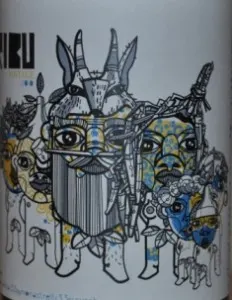 Here's a nice little Spanish red blend that is just bursting at the seams with fruit flavor. It's a 2010 but tastes like it was bottled yesterday. The blend is equal parts Garnacha, Monastrell and Syrah, and it comes in at the awesome Costco price of $9.99. As far as under $10 bottles go, I recommend giving this one a shot.
On the nose are the first hints of the big fruit to come, along with violets and a little spice that comes back toward the finish. In the mouth, this wine is big and full bodied with flavors of cherry, strawberry and a touch of cranberry; there's a bit of oak and leather too as the wine progresses. The finish wraps up pretty quick, but I'm ok with that at this price range. There's a good dose of acidity that helps the wine stick.
At $10 this is a no brainer to drop in your cart. I'd recommend this wine for your pizza night or when you're cooking burgers on the grill. It can also stand just fine on its own. Enjoy.
CostcoWineBlog.com Rating: 87 Points
Costco item number: 782554
Purchased at Costco in Atlanta, GA