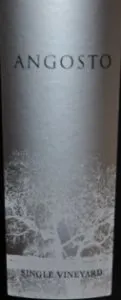 This wine is an absolutely steal for only $11.99 at Costco. I'm going back today to try to buy more. I enjoyed this bottle with two other people who also agreed that it drank like it cost $30-$40. If you are a regular reader of this site, this is why you buy wine at Costco, right here. Go get it.
Smells expensive on the nose, a little cinnamon and some spices. I thought the wine appeared a bit younger than 2009 when I poured it, and when you get into it more you realize we are drinking it at a perfect time.The wine is medium in body with ripe fruit, mostly red fruit with a hint of plum; strawberry licorice, some leather aromas toward the end. Tannins are juicy; a long multi-layered finish. A superb wine that I still can't believe was only $12.
This wine will go on our Silver Rated wine list as well as our Value Picks. This is an incredible buy right now at Costco.
CostcoWineBlog.com Rating: 92 Points
Purchased at Costco in: Atlanta, GA
Costco item number: 755334