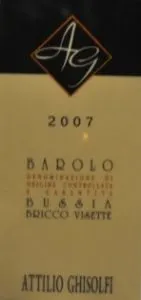 This is what Barolo is all about. It doesn't come cheap but then few things of this quality do. This bottle was $59.99 at Costco and it truly overdelivered in terms of what I expected from a nice Barolo.
As many readers know we are working on a book about Italian wine (coming out late spring/summer hopefully) and part of the job is sampling bottles from every region of the great Italian landscape. This has been one of my favorites so far.
It's an '07 and it's drinking beautifully right now, hints of a little age in these grapes that are meant for the long haul. The wine is big and bold in flavor, lots of red cherry fruit alongside perfect tobacco, spice and earth floor. Then mid-palate you feel the soft silky tannins, just perfect, into a finish that's pure Italian – dry and lasting.
Pair this with any big hearty red meat dominated meal and you have a winner. Or like the two authors of the forthcoming book, you can enjoy it on its own, while writing about the awesome wines of the Piedmont region.
CostcoWineBlog.com Rating: 93-94 Points
Purchased at Costco in: Atlanta, GA