We reviewed this wine a while back, but since each new release of a Kirkland Signature label can essentially be a totally different wine, I feel that it's relevant to review it again. Also, December 31st is fast-approaching and there is no better way to toast to the New Year than with a glass of bubbles.
Now, on special occasions I usually like to open a bottle of Champagne. But what about when that bottle has been poured out amongst multiple people in under an hour?
Sparkling wine goes down a little too fast in a crowd, and opening multiple bottles of a $20-$50 wine can add up fast. This is why I love to always have a few bottles of KS Prosecco on hand. Most people won't even notice that they've moved on from Champagne to Prosecco, especially if you're mixing it with orange juice. I always tell Costco members not to buy expensive sparkling wine for their mimosas because it's a waste of money. KS Prosecco is perfect for this occasion.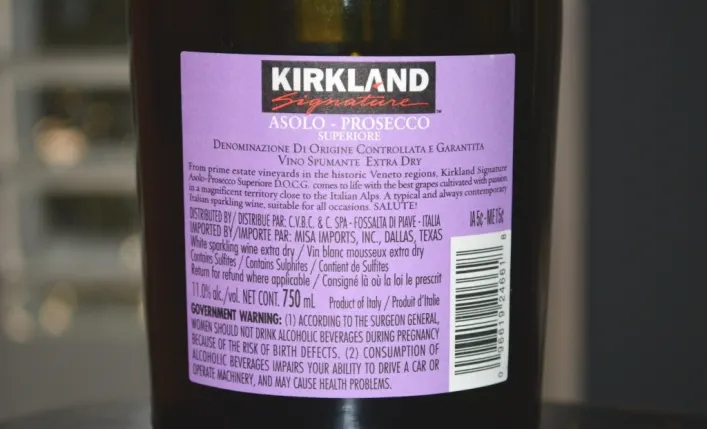 The Kirkland Prosecco is a DOCG wine, the highest quality designation that a Prosecco can have because it's both controlled (controllata) and guaranteed (guarantita). The difference between a DOC Prosecco and a DOCG Prosecco is that the latter has been approved by a tasting panel, and therefore the wine is guaranteed to taste as it should. The wine is also designated "superiore" which means that is has 0.5% higher alcohol content than it would otherwise.
Having only 11% ABV and being "extra dry" according to the back label, this wine is light, fruity, and with just a hint of sweetness. "Extra dry" sparking wines actually have a greater amount of residual sugar than "brut" wines, so if you're looking for the driest possible Champagne, Cava, or Prosecco, reach for "brut" instead of "extra dry," That being said, the additional sweetness in this Prosecco is very slight, and completely undetectable in a mimosa.
For my notes, I wrote "aggressive bubbling," to describe the cyclone bubbling action that emerged from the bottom of my flute. It bubbled this way for at least five minutes.
Prosecco is made by the Charmat method, which is a fancy name for "steel tank fermentation." Prior to bottling, the wine undergoes a second fermentation in these large tanks, unlike Champagne and Cava where this would occur in the bottle. Because of this, the mouse (bubbles) isn't as fine.
There is a third way to produce sparkling wine as well, a method that I like to call the "Coke method," which is simply pumping CO2 into still wine juice as it's bottled, in the same way that soda pop is produced. The disadvantage of preparing sparkling wine in this way, apart from the abomination of respectable wine-making, is that the wine becomes flat very quickly.
The nose on this wine was interesting. I keep a mini dry erase board affixed to the side of our refrigerator so that I can jot tasting notes down while preparing dinner. I usually assign a score rather quickly and write down anything that jumps out at me.
For this wine, I wrote "green apple but the fake candy flavor. Green apple Jolly Rancher." This was the predominant and overwhelming tasting note that I got. The wine is very lightly sweet and the bubbles are aggressive, as I mentioned before.
While it's good on its own, the finish is kind of blah and unimpressive. I really think this wine is perfect for mixed drinks because fruit juices will tame the bubbles.
The KS Prosecco has always been a favorite of mine and I like to have a few bottles on hand for company. While there is no vintage designation for the wine, the current release is of a similar quality to those I've tasted in the past.
CostcoWineBlog.com Rating: 87 Points
ABV: 11%