New Zealand Sauvignon Blancs are almost built for the hottest of the hot summer months. We love them poolside, on the beach, pretty much near any body of water on a sunny day. And many of these wines hover around the same price and quality, in our opinion.
As we're entering the fall months now, some of the water access starts to subside, and the weather isn't quite as hot (at least in the Atlanta area). I find these wines can be a great way to kick off dinner prep, or just to share with friends and family on their own.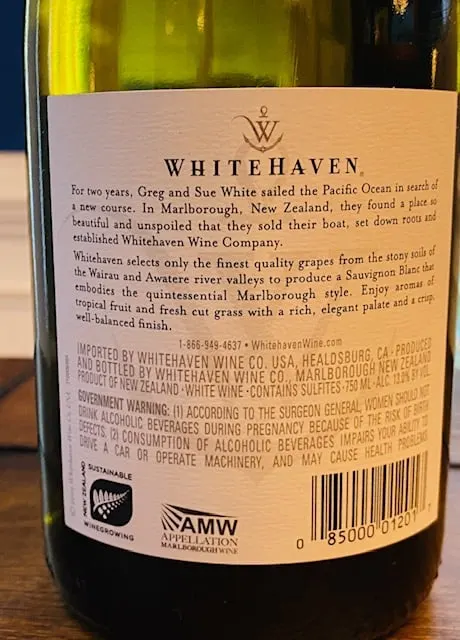 Today we're going to look at the Whitehaven Sauvignon Blanc from New Zealand's Marlborough region. It checks all the boxes that you want in this style of wine, and then a few more. Costco's price is $13.99 which is pretty good, considering retail is around $20 and online it sells for around $14-16.
The wine pours a pale to medium yellow in color with lemongrass, citrus, and grapefruit aromas on the nose; signature Marlborough acidity right when it hits the mouth; medium in body with peach, orange, pineapple flavors; a nice tarty finish.
This is a really nice New Zealand Sauvignon Blanc that is worth the step up from the likes of Nobilo and Brancott (both of which we scored 87 points the last time we reviewed here). If you like either of those wines or the Kirkland Ti Point (also scored 87) than you really like this one.
This is definitely one of the more elegant wines from the region that we've tasted in recent memory. And it seems to make regular appearances in Costco stores around us, so hopefully you are able to find it if it sounds like the type of wine you might enjoy.
CostcoWineBlog.com Rating: 89 points
Costco item number: 430006
13% alc
This wine was received as a sample for the purpose of writing this review. All reviews are written at the discretion of the individual reviewer. Opinions of the reviewer do not necessarily reflect those of CostcoWineBlog.com as a whole, and reviewers are not paid for their reviews by wineries or their affiliated distributors. We at CostcoWineBlog.com believe that wine preferences and opinions are often subjective and highly individualistic. Our scores are based on our individual perception of a wine and how well it reflects the area in which the grapes are grown, the expression of the grapes, and also the quality of the finished product. We remind readers that we are 100% independent of Costco Wholesale Corporation, and are simply of a group of Costco wine fans looking to try new wines and share our favorites with this community.