Here's an interesting Costco wine find. We've been on a bit of a Paso Robles kick and have reviewed more reds, and the occasional white, mainly the Daou Chardonnay, which is what we've found available at Costco so far.
The only other Viognier I've tasted from Paso Robles that comes to mind was one I had last summer from Miner, and I really enjoyed that bottle (I didn't find it at Costco, ordered from the vineyard direct and it was around $25).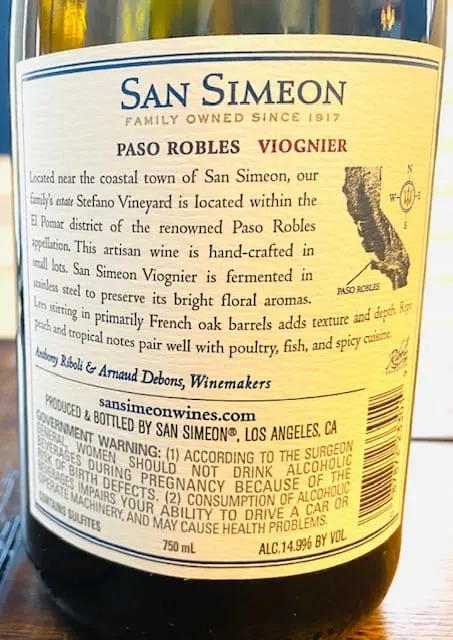 This Paso Robles Viognier from San Simeon is priced online around $19 (Wine.com) and is $14.99 at Costco. Wine Spectator gave the wine 92 points, and Wine Enthusiast has given other vintages of the wine 90 point scores as well; so it should be fun to get in and see what this one is all about.
The wine pours a medium to deep gold with vibrant citrus fruit on nose; it is medium to full in body and absolutely loaded with flavor including orange, apricot, tangerine and peach; there's a nice minerality throughout and a touch of oak into the finish.
This is a really fun wine with a lot going on and is a nice change of pace from the usual lineup of white wines. I've always enjoyed Viognier, especially in the hot summer months here in Atlanta, but this one hit the spot on a colder night as well.
CostcoWineBlog.com Rating: 89 points
Costco item number: 1002508
Alc. 14.9%
This wine was received as a sample for the purpose of writing this review. All reviews are written at the discretion of the individual reviewer. Opinions of the reviewer do not necessarily reflect those of CostcoWineBlog.com as a whole, and reviewers are not paid for their reviews by wineries or their affiliated distributors. We at CostcoWineBlog.com believe that wine preferences and opinions are often subjective and highly individualistic. Our scores are based on our individual perception of a wine and how well it reflects the area in which the grapes are grown, the expression of the grapes, and also the quality of the finished product. We remind readers that we are 100% independent of Costco Wholesale Corporation, and are simply of a group of Costco wine fans looking to try new wines and share our favorites with this community.