This wine has been a Costco staple for a while, and it seems to come and go along with other varietals in the line.
I've seen the Indian Wells Cabernet and Chardonnay at times, and the wines are usually in the wooden bins on the tables. At $13.99, it's one of those wines that could go in the aisles or with the bigger ticket items.
Indian Wells refers to the Eastern Washington vineyards from which these grapes are sourced. These vineyards lie in the Wahluke Slope and Horse Heaven Hills AVAs. Some of the grapes are sourced from Chateau Ste Michelle's Cold Creek Vineyards as well.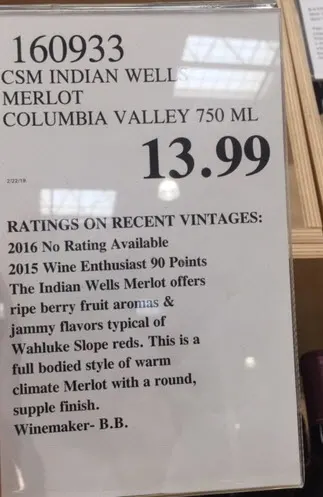 The vineyards were selected for producing "high quality, ripe fruit, yielding wine with intense color and flavor," according to the wine's tech sheet. Wahluke Slope Syrah was added (16%) to the Merlot (84%) in order to enhance the mouthfeel and rich fruit character.
I tend to think of Washington reds as being very fruit-forward and low in tannin. If you like smooth and fruity wines, you should try some wines from this state. Merlot is a grape that tastes completely different depending on where it's grown and how it's vinified.
South American Merlot has a lot of blueberry and black licorice notes whereas Right Bank Bordeaux blends, predominantly Merlot, are usually earth and mineral driven with more of a floral quality.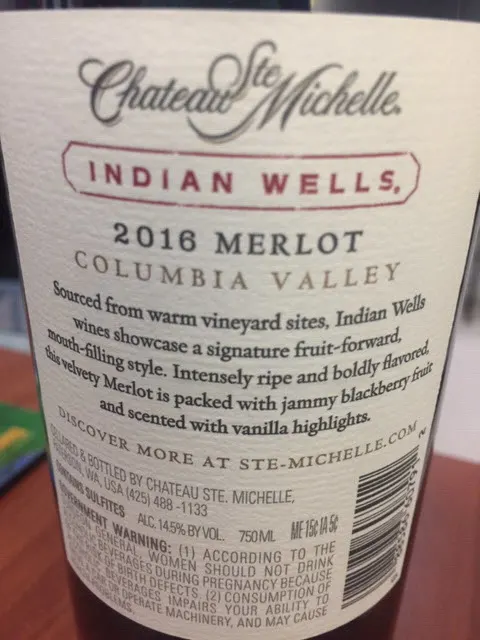 This wine does in fact have intense color like the tech sheet describes. A nice aroma of dark berries and milk chocolate fill the glass while the palate is smooth with black plums, vanilla, and baking spice.
Everything is really well balanced, and this is a fruit-forward wine without being sweet, per se. I would drink this wine on its own, but it could also pair well with a summer barbecue or chocolate-based dessert, amongst other fare.
Wine Spectator gives this vintage 89 points and calls it "lively, with zesty fruit, offering appealing black currant, espresso, and spice flavors that finish with refined tannins."
Previous vintages have received 90 points from both Wine Enthusiast and Wine Spectator, so I think that it's safe to say that this is a consistently good-quality product.
CostcoWineBlog.com Rating: 90 Points (a CostcoWineBlog Top Pick)
Alcohol: 14.5%
Costco Item Number: 160933
Purchased in Alpharetta, GA