We reviewed the 2015 Paul Dolan Cabernet last April, and earlier this year the winery's Zinfandel from the same line appeared in my local Georgia warehouse.
I used my Coravin Wine Preserver to open and taste this wine. If you don't have one, I would recommend making this small investment. I've written a detailed description about the device before, but I will briefly explain why the Coravin is so useful.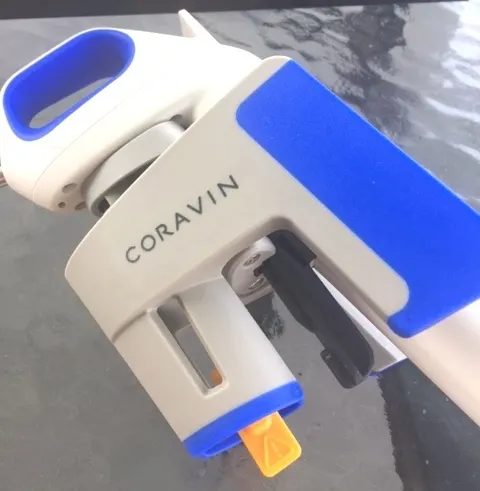 For the most part, you can "open" a bottle of wine in order to taste it or to pour just one glass, then put it back on your wine rack for another day. I recently opened a bottle of high-quality '96 Cabernet that I Coravined nearly a year ago and it tasted the same now as it did then, even though a glass has been missing from the bottle while it rested in my wine chiller.
Paul Dolan's 2015 Zinfandel from Mendocino County has a whopping 15% alcohol content, which I think is pretty high even for red zinfandel. The bottle is heavy and has a deep punt, which is what I usually expect from a wine that costs over $30 a bottle (this wine is currently $12.79 at Costco).
I love the label because it's very clean, simple and classy-looking. You can order the current vintage of this juice directly from the winery's website for $25 per bottle, or elsewhere online for an average of around $16.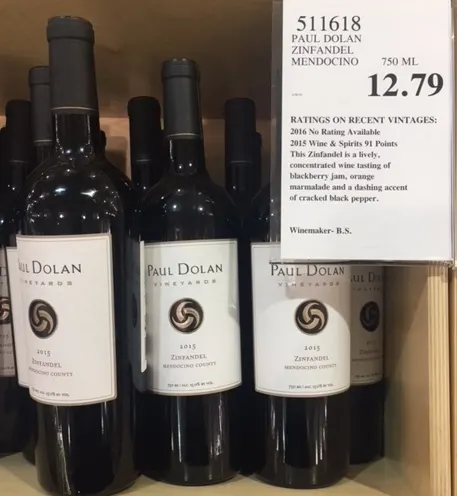 The wine opens with a nose of jammy red and black fruits, vanilla, and orange marmalade. The palate is fruit-forward with dark berries, chocolate, and baking spice that finishes with a little bit of heat. The wine is lighter in body than I expected from the alcohol content. It's a more elegant style of Zinfandel. I would definitely serve this cooler than room temperature (60-65 degrees).
Wine Enthusiast gives this wine 89 Points and an "Editor's Choice" designation as well as naming it one of the "big, bold reds for your summer BBQ."
One notable thing about California Zinfandel is that it pairs well with a variety of foods. Any sort of grilled or stewed meat with a tomato-based sauce, especially one that's a little bit sweet, will go well this style of wine. I would avoid overly spicy foods with this because the heat of the higher alcohol level will overly accentuate the spice.
For those of you who drink reds throughout the summer, this is a good choice to offer your guests on the outdoor patio. Just remember not to serve it too warm.
CostcoWineBlog.com Rating: 90 Points
Alcohol: 15% ABV
Costco Item Number: 511618
This wine was received as a sample for the purpose of writing this review. All reviews are written at the discretion of the individual reviewer. Opinions of the reviewer do not necessarily reflect those of CostcoWineBlog.com as a whole, and reviewers are not paid for their reviews by wineries or their affiliated distributors. We at CostcoWineBlog.com believe that wine preferences and opinions are often subjective and highly individualistic. Our scores are based on our individual perception of a wine and how well it reflects the area in which the grapes are grown, the expression of the grapes, and also the quality of the finished product. We remind readers that we are 100% independent of Costco Wholesale Corporation, and are simply of a group of Costco wine fans looking to try new wines and share our favorites with this community.