La Crema is a well-known producer of "cool-climate Chardonnay, Pinot Noir, and Pinot Gris" produced by artisan winemaking. I was pleased with a recent flight of Pinot Noirs that I tasted through, and I can say the same for their 2015 Sonoma Coast Chardonnay.
I wrote "Yum!" on my tasting notes, which I don't usually do because I'm not usually crazy about Chardonnay even though I do tend to have a weakness for appellation-specific and single vineyard varietal representations.
There are just too many over-oaked butter bombs out there with residual sugar that mimics that of an off-dry Riesling. In an effort to avoid these wines, I tend to shy away from purchasing any wine with a label that reminds me of breakfast.
La Crema is not one of these, despite the name (which actually is supposed to mean "the best" and not "the cream"). This wine is smooth with light oak influence and balanced acidity on account of cool-climate growing conditions followed by partial malolactic fermentation. This gives the wine a buttery mouthfeel and flavor without it being overpowering or sweet. The finish is clean and fresh.
Malolactic fermentation, or "malo" as some will say, is simply the process of malic acid (tart, like that in green apples) being converted to lactic acid (softer; the acid in yogurt) by bacteria. This usually happens during or after alcoholic fermentation, and winemakers can manipulate the environment of the wine in order to allow it to proceed or block it.
When winemakers allow malo to proceed, or add bacteria in order to encourage it, the final product has a creamier "buttery" mouthfeel. Wines where malo is blocked tend to have a more tart and crisp flavor and texture; think Riesling and Gewürztraminer.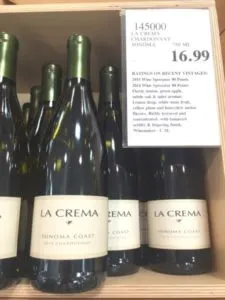 According to La Crema's website, "Fifteen percent of the lot was co-inoculated with the house strain of malolactic bacteria then used to top the remainder of the lot during post-primary fermentation. The lees were stirred 1-2 times per month and the wine aged for 9 months."
I have written about lees before, which are often necessary for malo to proceed normally but are also used to impart a similar full-bodied texture as well as additional layers of flavors.
Science, right?
I like this wine because the fruit flavors are pronounced without the wine being sweet, and the oak and above-mentioned influences give the wine a creamy texture. Wine Spectator gives the 2015 La Crema Sonoma Coast Chardonnay 87 points while Wine Enthusiast has not rated the current vintage but gave the 2014 90 points.
I give this wine 89 points. You can find it in most Costco clubs hovering around the $18 mark.
CostcoWineBlog.com Rating: 89 Points
Purchased in Alpharetta, GA
ABV: 13.5%
Costco Item Number: 145000