This is a great time of the year for this wine to arrive at Costco. The Kirkland Signature brand of wines are known for their value, and while you may be purchasing more designer-label juice for your boss or wine-snob nephew, you're probably perfectly content having a "Costco wine" with tonight's dinner.
The term "Bordeaux Superieur" refers to a Bordeaux wine that has met more strict regulations regarding yields, vine density, grape ripeness at harvest, and aging when compared to wines that are simply labeled "Bordeaux."
This, in the hopes that the final product will be of a higher quality than more… inferior wines, if you will. Most Bordeaux Superieur wines retail for at least $10 a bottle, while the Kirkland-stamped offering is only $7.99.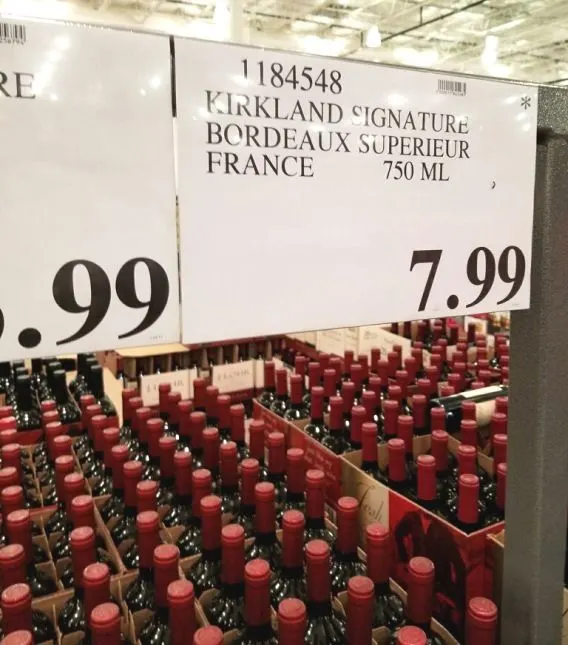 My husband, free from the burden of tasting only with his mind for the purpose of evaluation, declared "This is pretty good! I could totally drink this." And while I was skeptical at first, I eventually came to the conclusion that I agree with him.
The wine pours a deep garnet and tinged with brown as if it were a few years older than it actually is. The nose is full of metallic dark fruit aromas and is not the highlight of the experience I must say.
The palate, full and in-fact well-balanced as the back label declares, is moderate in acidity and finishes with smooth tannins.
I would drink this wine now, and while it's not a bottle that I plan to purchase again, I do feel that it was right where it needed to be for a wine at this price point.
Purchased in Buford, Georgia
CostcoWineBlog.com Rating: 87 Points
Alcohol: 13.5%
Costco Item Number: 1184548