I'm always excited to see Riesling from German or France pop up at Costco. It just doesn't happen enough and it's usually a nice treat and welcome change of pace from the plethora of Chardonnay that seems to grace the majority of Costco white wine shelves.
This wine was a little on the pricey side at $18.99, which isn't necessarily bad for a wine from Alsace, but a Google search on this one showed it available for a bit lower online. Not a big deal though since as far as under $20 bottles go, this turned out to be a super solid choice for white wine fans.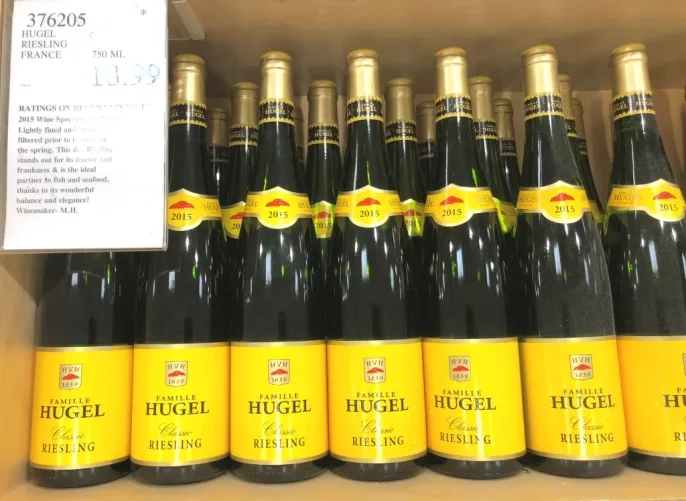 So the big question right off the bat, is whether or not this wine is sweet. I wrote an article for the HuffPost that addressed this question and offered a super simple method for gauging the sweetness of a wine, essentially looking at the alcohol content. Anything above 11% is on the dry side, and below 11% the wines tend to be sweeter. This Hugel bottle came in at 12.5% which told me it would be a dry Riesling, and it was indeed.
Actually, in rereading that article I noticed a quote I included that "everybody may not like all Rieslings, but there's a Riesling for everybody." This bottle from Hugel really exemplifies the statement as it is super fruit forward, juicy, fresh and accessible. I think many people who typically don't like Riesling will enjoy this one.
Most of the flavor is citrus, and green apple with crisp acidity and a nice mouthfeel; there's a little minerality and wet stone on the finish, but this is a great summer sipper and would be awesome with light summer cuisine, from salads to white fish like halibut. But we actually sampled it around a pool on its own on a beautiful sunny day and it was fantastic. A nice addition to our Recommended Wine List, and a welcome addition to Costco wine shelves.
CostcoWineBlog.com Rating: 90 points (a CostcoWineBlog Recommended Wine)
Costco item number: 376205
Purchased at Costco in: Atlanta, GA
Alc. 12.5%