I was thrilled to see this wine hit Costco bins a few weeks ago. I can't recall coming across another Sauternes since my time as a member, although I am quite certain this isn't the first.
Sauternes is cool because it's a concentrated, honey-sweet juice that really complements a variety of foods. A classic pairing for this "dessert wine" is foie gras. The honeyed apricot notes tend to really compliment the rich, fatty liver pate.
If you're not into this sort of starter, another excellent way to pair this wine is with a nice, high-quality cheese board. I particularly like Sauternes with Humboldt Fog goat cheese or an aged sheep's milk cheese such as Pyrenees Brebis.
So, what exactly is Sauternes? Well, first and foremost, grapes from this wine must come from the Sauternais region of Graves in Bordeaux. Three grapes go into the blend for this wine: Semillon, Sauvignon Blanc, and Muscadelle. This makes sense because these are the three grapes that go into most white Bordeaux wines. The interesting thing about Sauternes is that the grapes are subjected to Botrytis cinerea prior to harvest.
Botrytis cinerea is a fungus that can affect plants when dry conditions are followed by periods of wet or humid conditions. In the case of grapes, Botrytis acts to slowly dehydrate the fruit, causing them to shrivel while the sugars and fruit acids inside concentrate. This is more simply known as "noble rot." When these raisinated (i.e. rotted) grapes are vinified, the resulting product is a full-flavored and sweet wine with a smooth and somewhat syrupy mouthfeel.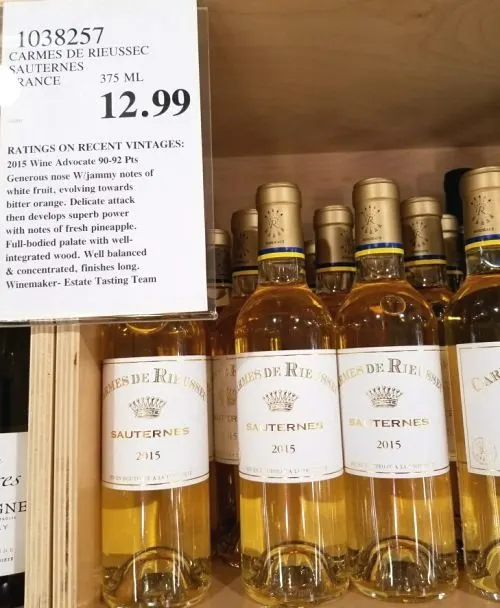 Because these wines rely on a natural process that requires specific weather conditions (wet then dry), production can be hit or miss with wide variations between vintages. Furthermore, it takes significantly more grapes to produce a bottle of Sauternes than a regular still wine, making these wines quite expensive to produce. For these reasons, Sauternes wines are often sold in 375ml bottles at prices of $20 and up.
The 2015 Carmes de Rieussec Sauternes by Domaines Barons de Rothschild (Lafite) is currently offered in select Costco warehouses for the very fair price of $12.99. I would buy one to drink now and one to hold, and you should store the bottle for immediate consumption in your refrigerator. Sauternes wines age well because high acidity and residual sugar and should be served between 46-50 degrees Fahrenheit.
This wine has beautiful aromatics of honey, citrus, and vanilla. Sweet and full on the palate, notes of white peach, pineapple, and bitter orange linger on the finish. Well-balanced acidity softens the sweet mid-palate. The blend is 87% Semillon, 7% Sauvignon Blanc, and 6% Muscadelle.
CostcoWineBlog.com Rating: 90 Points
Costco Item Number: 1038257
Alcohol: 13.5%
Purchased in Buford, Georgia