This is an absolute screaming buy if you're able to find it at your Costco. We posted about the big bottles arriving in Nov for the holidays. At that time, this bottle was priced at $100. Today it can be had for half that.
The price on the standard size Mondavi Oakville at Wine.com is $52, and the critics loved this wine, giving it 90+ points across the board. I was a huge fan of '12 and '13 Napa Cabs, and am starting to really enjoy the '14s, which will also show a lot of potential down the line after a few more years.
In fact, scoring an Oakville Cab like this in the big bottle is perfect for the cellar (less air/wine contact ratio due to large format), and will be really exciting to pull out in 10 or more years. That said, it's drinking pretty good right now too.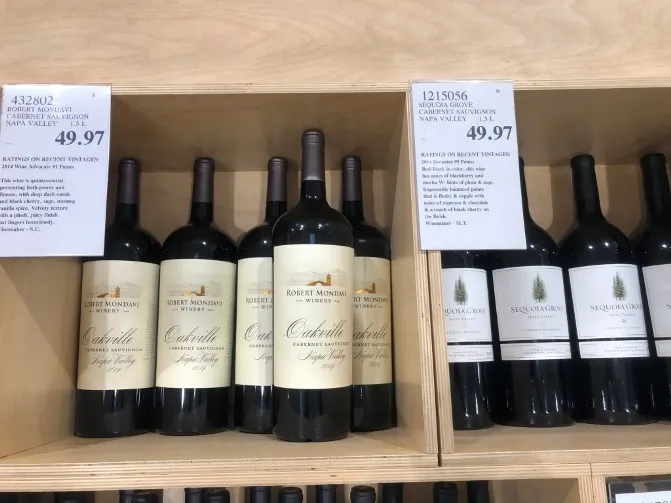 Let's get into the wine itself. The blend has a few other varietals, made up of 88% Cabernet Sauvignon, 5% Cabernet Franc, 3% Malbec, 3% Petit Verdot and 1% Merlot.
Right away on the nose you can tell this is high quality Napa juice. I just love these Oakville wines; floral, vanilla aromas with big fruit, cherry, black currant and plum; full in body with cedar and espresso on the finish. A lovely wine.
As you can see in the photo above, the Sequoia Grove Cabernet in the 1.5L bottle was right next to this Mondavi. That's another screaming deal that's normally $40 for a standard size bottle. So keep an eye out for other deals in your Costco on these leftover large format bottles. It's hard to say what you might find.
CostcoWineBlog.com Rating: 91 Points (a CostcoWineBlog Top Pick)
Costco item number: 432802
Purchased at Costco in: Atlanta, GA
Alc. 14.5%