We reviewed the 2011 Hess Select a few years back, and it has been a staple in the Costco wine department since then. This is one of those wines that is recognizable, widely available, and somewhat mass-produced.
I've spent a minute or two in the past few months to reflect on my own personal opinions regarding wines such as this. In the past, I would have scoffed at any wine that had a production of over 200,000 cases.
I am typically more interested in single-vineyard and small scale wines. However, I often find that I enjoy mass-produced wines just as much as boutique offerings. This begs the question:
Does the quality of a wine decline as production increases?
I could write a different post (and probably will) on this discussion and the argument that a smaller number of grapes translates to a higher quality wine. I won't do that now though.
I opened my Hess Select Cabernet as a second bottle to some wine that was probably hard to find at Costco, let alone, but any wine retailer. I had been drinking with my mind and needed relief from dissecting the nuances of a wine.
"Wow, this is actually pretty good," were my exact words. The wine was aromatic, fruity, and well-balanced. I liked that it wasn't too sweet, a fault I find in many popular American red wines.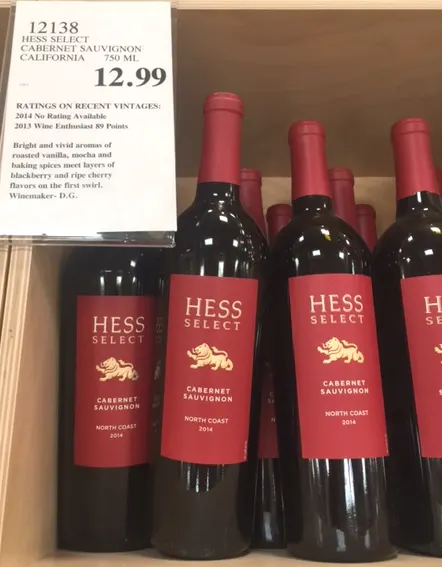 The tech sheet for this wine lists the grape composition as 78% Cabernet, 10% Petit Sirah, 6% Malbec, and 3% each of Merlot and Cab Franc. A smidgeon less of Cabernet (2% to be exact) would have made this wine, technically speaking, a blend.
I wrote recently about my support for blended wines and how blending makes a wine more balanced and approachable. Fifteen months of oak aging add structure and length to this cuvee.
I would recommend this wine as a good everyday-drinking Cabernet or weekend second bottle. This is a bottle that I would bring to a family holiday party where guests include a mix of wine aficionados and "entry-level" drinkers. I give this wine 89 points.
Purchased in Buford, GA
CostcoWineBlog.com rating: 89 Points
ABV: 13.5%
Costco Item Number: 12138