This wine initially caught my attention because of the ultra low $5.99 price tag. It also had a sticker on the bottle bearing a "#5 Top 100 Best Buys 2016" designation from Wine Enthusiast along with a copper-colored screw cap for easy-access. Lastly, I was attracted to the napping Bulldog on the label that reminded me of my alma mater's mascot (Uga VI).
Paxis Red is a blend of Touriga Nacional, Touriga Franca, and Tinta Roriz. The latter is simply another name for Tempranillo, and the other two are varietals that are commonly grown in the Douro Valley of Portugal.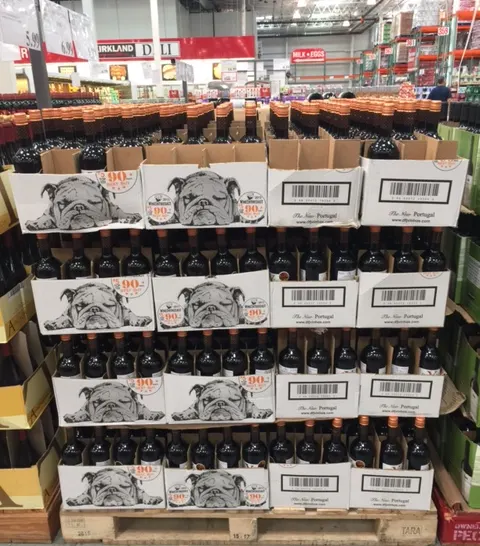 Touriga Nacional produces aromatic and tannic wines with high acidity alongside flavors of black fruits, raspberry, and cassis. Touriga Franca, on the other hand, imparts more delicate floral notes like violet into wine, and is a varietal that ages well in the bottle. This grape is also rich in color and structure, a trait unlike its thin-skinned Tempranillo cousin.
The wine opens with a pleasant nose of sassafras, blueberries, and cola. The appearance is a lightly translucent burgundy with a peach-colored rim. On the palate, the wine is juicy, zesty and metallic. A decent amount of acidity, masked by residual sugar, will make your mouth water. The wine is fairly simple and fruity.
I would decant this wine on account of the 2013 vintage and screw cap closure. A little bit of air will likely alleviate the reductive qualities of the wine. Sometimes, in order to expedite the process, I will pour off half a glass, screw the cap back on, then shake the wine vigorously. I usually only do this with inexpensive and relatively young wines.
Wine Enthusiast gives this wine 90 points, and I will agree that it is a good value at $5.99. If you like fruity and tart wines that aren't overly dry, then this is the juice for you.
CostcoWineBlog.com Rating: 86 Points
Costco Item Number: 1135584
Purchased in Cumming, GA
Alcohol: 12.5%